First of all, we all already know that at this time, the native android dark mode feature, is only available for android smartphones running the new Android 10 operating system, and some other top brand of smartphones that have the feature already baked into their custom UI, such as Samsung One UI, Xiaomi MIUI, Huawei's EMUI and so on.
Read Also – Stock android vs Custom UI (why you should choose one over the other).
So at the time of writing this article, there are no Tecno smartphones that have this Dark mode feature, except for the recently launched Tecno Camon 15 Pro, because it launched with android 10 out of the box.
How to activate/turn on/enable dark mode on Tecno Camon 15 & 15 Pro
To activate or turn on dark mode on your Tecno Camon 15 or 15 Pro smartphones, here's all you have to do.
Pull down your notifications drawer to reveal your quick setting toggles.
Locate the option that says "

Dark Mode

".
Tap on it, and your smartphone should immediately change to its dark theme.
So here's what we're gonna be doing today. Today we'll show you a way to activate and make use of dark mode on your non-android 10 running Tecno smartphones, by making use of a very simple app.
BUT PLEASE TAKE NOTE that after following this tutorial, unlike on smartphones running android 10, dark mode might not really get to work on the entire user interface of your Tecno phone, as the app only works on selected apps, especially Google apps such as Play Store, Chrome, Gmail, etc.
If you want to see how to activate dark mode on other non Google apps such as WhatsApp, you can follow the link below.
Read Also – How to turn on WhatsApp Dark Mode on any Infinix, Tecno, or iTel smartphones.
Now having seen that and without further ado, here's how to activate/turn on/enable dark mode on your Tecno smartphones that aren't running the new android 10 operating system. #Enjoy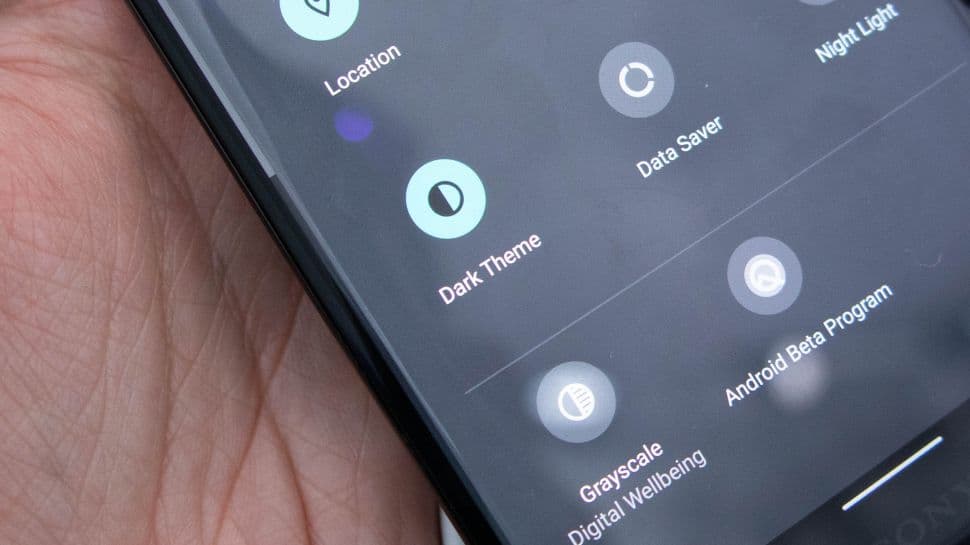 How to activate dark mode on non-supported Tecno smartphones, running HIOS 5.0 – 5.5
Go to Google Play Store and download the "

Dark mode

" app, or you can follow this link right here.. "Download Dark Mode App".
When you're done downloading, open it up and give access to the necessary permissions which it will ask you for.
When you've done that, you should see three toggles that say "

Day mode

", "

Night mode

", and "

Auto

" respectively.

I bet you already know what those toggles stand for. Day mode switches your phone to its default mode, while night mode is used for going into dark mode, and then auto, well you already know what that means.

And then in addition to that, you should see a dialog button that tells you what mode that your phone is currently running on, and gives you an option to click on it for more information.
When you click on the dialog button, and select the option that says "

Supported apps

", it gives you a list of all the apps that the app currently works on.
After that, you can go ahead and open some of the supported apps on your phone, to see that they're now running on dark mode.

#Cheers

.
Alright guys, so this is the only and best way that i can think of, and recommend, in order to turn on dark mode on your non-supported Tecno smartphones.
Please give this article a thumbs up by sharing it if you enjoyed reading it, and as always, I'll see you all tomorrow.. #Peace Out.
---
#Cheers…emmmanuelGodwin
Read Also
◉ Tecno android 11 update – Everything you need to know.
◉ Tecno HIOS 7 review – Everything you need to know.
◉ Tecno Phantom 9 vs Infinix Note 6.