Okay, so finally, Samsung has officially taken the veils off its new mid-range Galaxy A52 and A72 smartphones as worthy successors to the Galaxy A51 and A71 that were the reigning champions of last year, and if there is one way to describe these new phones in the shortest form possible, I'll simply refer to them as "Flagships in disguise".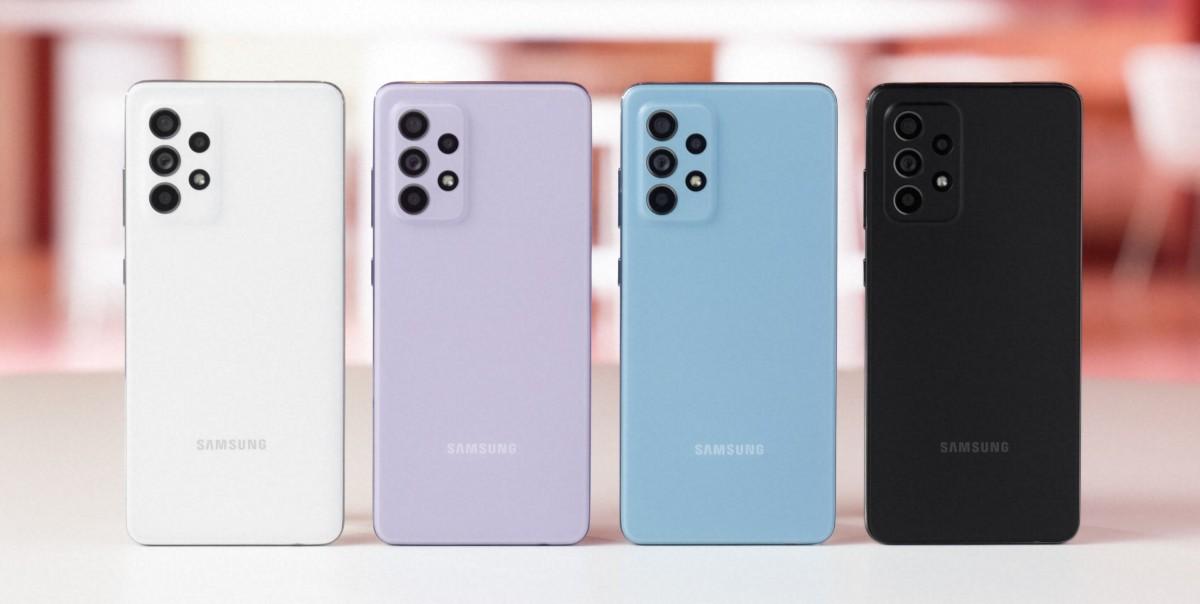 You know what that means? I'll tell you what.
So as expected, the Galaxy A52 variant actually comes in two flavors, the 4G and the 5G models respectively, with the only difference between the two phones being their processors and screen refresh rate.
While on the A72 model, well there is no 5G model of this one yet, at least for now, and aside from the larger 6.7 Inches display on it, a beefier 5000mAh battery, and a telephoto camera lens on the back, this phone is basically the same phone as the Galaxy A52 4G.
Now let's talk about these smartphones in-depth, while kicking things off with the…
Galaxy A52 4G & 5G
So like I said earlier, these two are basically the same phones with different chipsets and slightly different screen refresh rates.
You get a 6.5 Inches Super AMOLED display on both that can soar up to 800 nits in brightness levels. The 4G model's panel comes reinforced with a 90Hz refresh rate on it, while the 5G variant picks it up from there, and doubles it all the way up to 120Hz.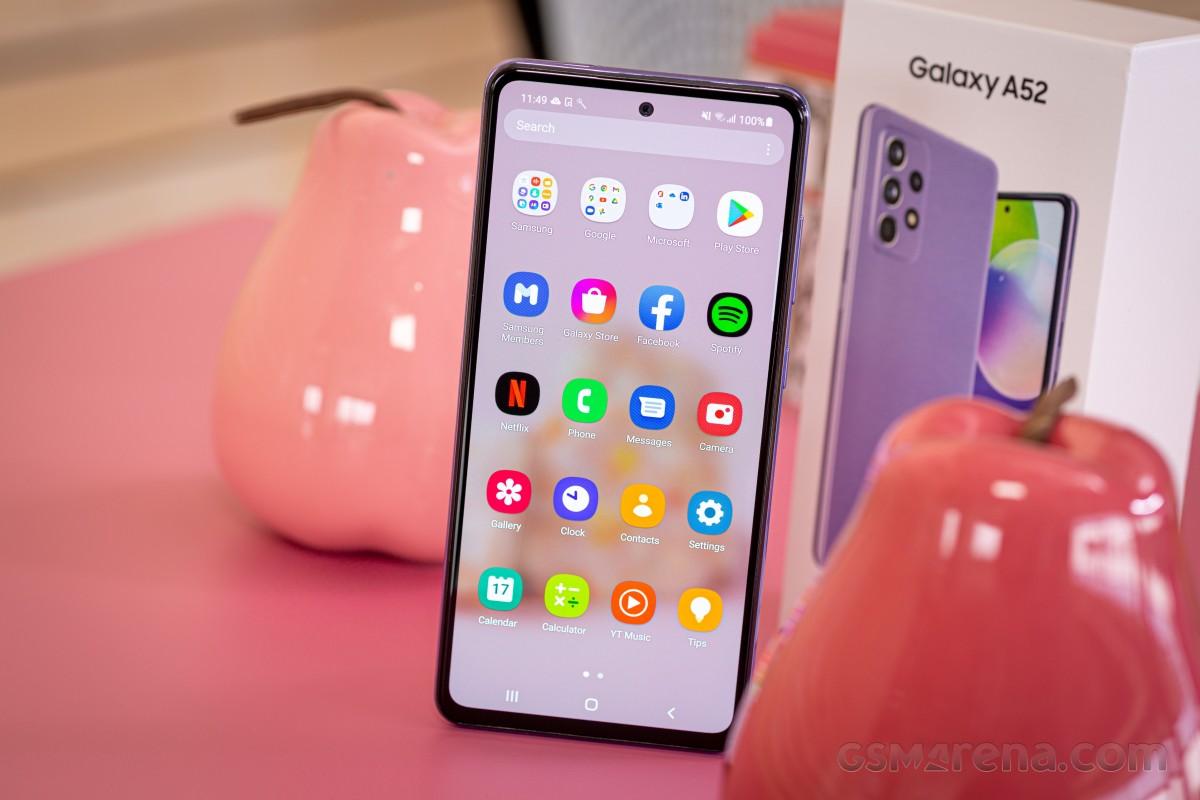 Both phones are protected with a sheet of Corning Gorilla Glass 5 on them.
You get a Snapdragon 732G chipset on the 4G model and a 750G on the 5G. I must confess that Samsung really took everyone by surprise on this aspect, because all the rumors so far before these phones were launched, all pointed to a Snapdragon 720G chipset on the 4G model.
So it's a good thing seeing that Samsung is really bringing the fight to the Xiaomi Redmi Note 10 series with these phones.
For cameras, you're treated to a set of upgraded new camera sensors on here also. We're talking about a 64MP main snapper with OIS and Super Steady video recording.
Following it closing is a 12MP ultrawide sensor, and then two 5MP modules join the league also, one for close-up macro shots, and the other one acting as a depth sensor.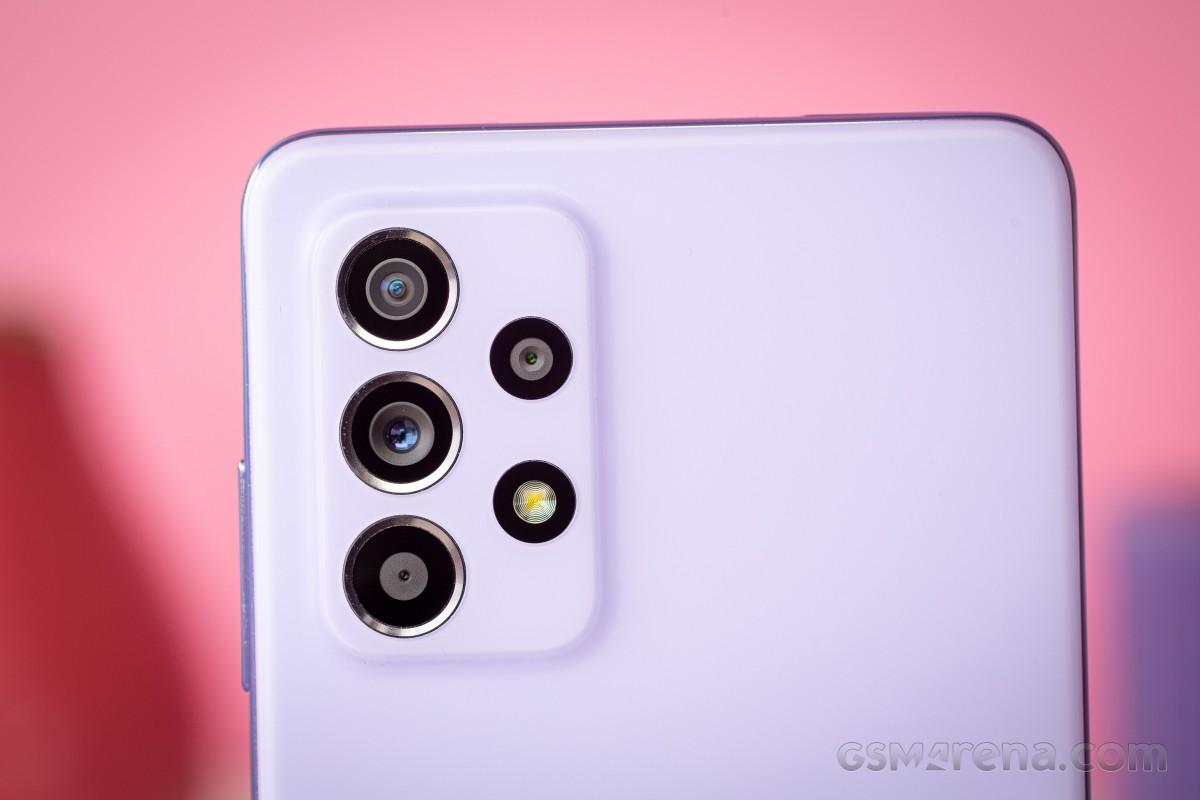 While on the front and tucked away nicely inside the hole-punch cutout at the top of their screens is a 32MP wide-angle sensor.
Both phones are further reinforced with an IP67 rating for ingress protection against water and dust, and they're both fitted with Stereo speaker setups which in turn have Dolby Atmos support on them.
Way to go Samsung!!
The batteries on these things got a slight upgrade too, from a 4000mAh cell with 15W charging speeds on the A51 to a 4500mAh power cell with up to 25W charging speeds on the new models.
So in conclusion, if you asked me, I'll unbothered-ly tell you that the new Samsung Galaxy A52 smartphones are a complete package for mid-range phones in 2021, and even creeping slightly into the flagship segment with the IP ratings, OIS on the main camera sensors, and high refresh rate OLED displays.
Samsung Galaxy A72
Now coming down to the Galaxy A72 model which doesn't have a 5G variant just yet, this one is more like taking all the good things from the A52 models, and making them bigger in size, starting with the display.
So on here, we get a 6.7 Inches same Super AMOLED display with a 90Hz refresh rates and up to 800 nits of brightness. The 5G model is probably gonna be packing a 120Hz refresh rate like the A52 5G.
A Snapdragon 732G chipset is present here as well, a 64MP main camera sensor and a 12MP ultrawide snapper.
Now, instead of the generic 5MP depth sensor on the A52 models, Samsung swapped that out and instead, included an actual 8MP telephoto lens here with up to 3x optical zoom and OIS, but you still get your 5MP macro lens.
Same 32MP sensor on the front of the phone, you get Stereo speakers, an IP67 rating, and a beefy 5000mAh battery that tops out at 25W speeds while charging.
All the new Galaxy A models will be available in four colors, namely; Awesome Black, Awesome White, Awesome Violet, and Awesome Blue.
And that wraps it up for today concerning the newly launched Samsung Galaxy A phones. Let us know what you think about these phones in the comments section below.
And if you enjoyed reading this article, kindly give it a thumbs up by sharing it, and as always, I"ll see you all tomorrow, #Peace Out.
---
Read Also
▪ Xiaomi unveils its most-anticipated mid-range phones for 2021, the Redmi Note 10 series, to rival the Galaxy A52 & A72 variants, here's all you need to know.