In case you missed it, today, I'll be telling you everything you need to know about the Branch loan app, like, what it is, how to successfully secure a loan from them, other things you can use the Branch loan app for other than taking loans, and the benefits involved in doing so.
So, first of all;
What is the Branch loan app?
Simple, Branch loans is arguably one of the best loan apps you can find right now, alongside the likes of FairMoney, Carbon, & QuickCheck, offering both small and large-scale cash loans to individuals and businesses without collateral.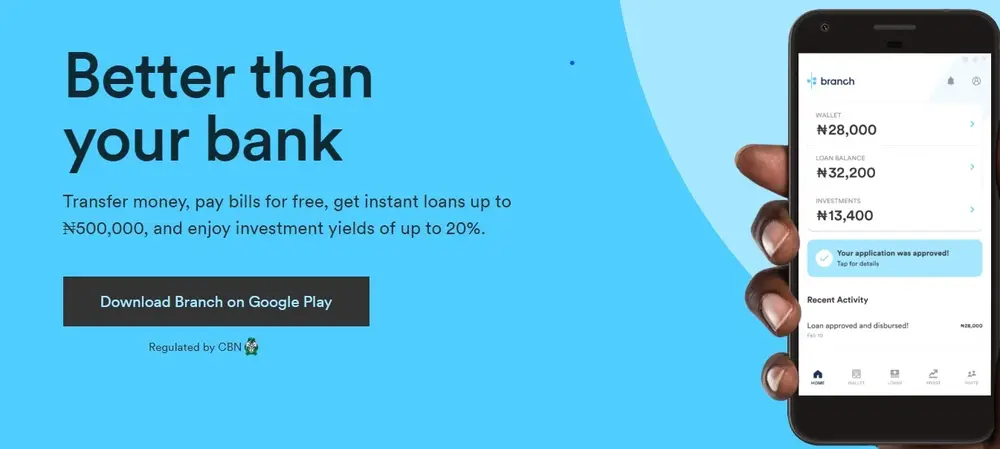 Though it started strictly as a loan company, over time, they've grown to become a full fledge micro-finance institution offering additional banking services such as owning an account with them and making your day-to-day transactions even with a physical debit card, saving and investing your money with them with some of the best ROI interest rates you can find at the moment, etc.
So, this basically means that even if you don't want a loan at a moment, you can use the Branch app for other things like the ones mentioned above, but before we start going deeper into some of those other services, let's first take a look at the first thing they were loan for.
Read also
How to get or secure a loan from the Brach loan app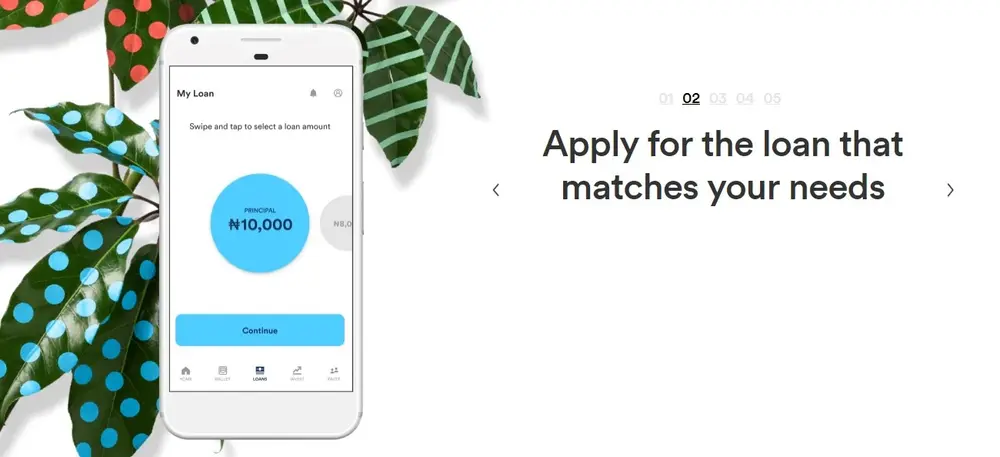 In order to successfully secure your first loan from the Branch loan app, here is the procedure you need to follow.
First of all, download the Branch loan app from here if you don't have it installed on your phone before now.
After that, go ahead and register if it is your first time using it, else, simply log in with your already existing details.
Once in, select "Loans" from the home screen, select the amount you want to borrow, and the application process will begin.
The process simply includes providing all the necessary details you will be required of, including your bank details, and even BVN.
After doing so, a lending decision will be made for you which tells you if you're eligible to take a loan or not, sometimes when you're not eligible for the initial amount you selected, you might be offered a lower amount.
Once you're okay with the decision, you can simply ahead and proceed by completing the application, and the loan will be funded in your Branch wallet.
Finally from your Branch wallet, you can withdraw the money to your bank account.
Pretty easy, isn't it?
Now, getting a loan is one thing, but maintaining a good record or credit score is another thing as your credit score is what will determine if you'll be eligible to take another loan in the future, and also if you can higher amounts.
And below are some of the tips to maintaining a record on the Branch loan app.
Always make sure to repay your loan in the shortest amount of time possible.
Try to carry out as many transactions as possible using the Branch wallet.
Doing these will likely increase your chances of securing larger loans in the future.
So, that's it for securing loans on the Branch app, but what of other things you can do on the app like saving and investing money, and even using it for your day to day banking transactions?
Well, let's see.
Branch saving plans
Branch currently has two savings plan that you can subscribe to, the Flexi plan, and Fixed Deposit plan.
The Flexi plan simply allows you to deposit and withdraw your money whenever you like, and it offers a 15% return on investment interest, while the Fixed Deposit plan, well, as the name implies, is a savings plan where you deposit your money and leave it for a fixed period of time before you can withdraw it, and this usually ranges from 1 month to 1 year, and offers a 20% interest on investment.
And below is how you can save or invest your money on the Branch app with any of these plans.
How to save & invest your money with the Branch app
Open the app, and from the homepage, select "INVEST".
Select the type of investment you want, whether Fixed or Flexi.
Select the amount you want to invest and also the source of funding.
If you selected the Fixed plan, you'd be required to select how long you want the investment to last.
After that, complete the steps by finally adding the funds, and you're done.
Interest is paid on every Monday of the week.
Read also: The best apps to save & invest your money online here in Nigeria, with the best interest rates.
And finally, aside from loans and investments, the branch app can also be used as your regular banking app, on registration, you're already issued an account number that is linked with Wema Bank.
So, you can send and receive money with it, pay bills, etc.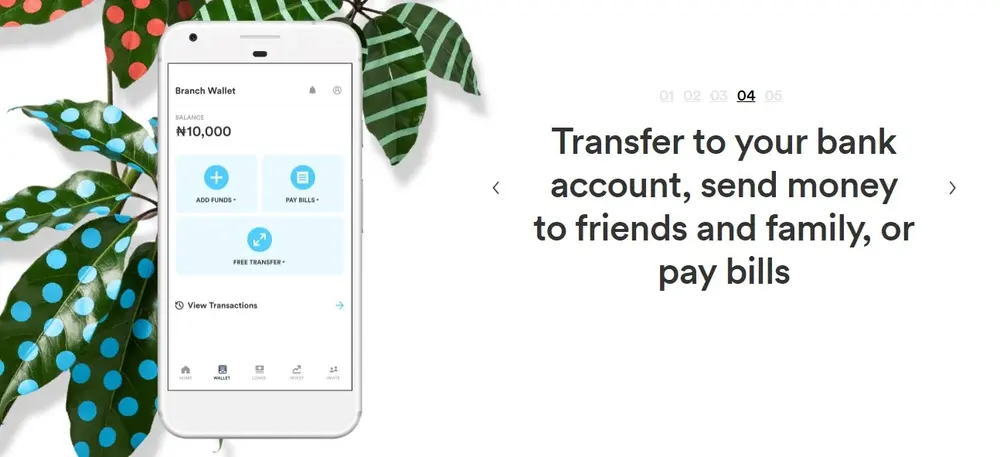 You also get a cashback bonus of ₦10 whenever you fund your Branch wallet using your card, and you also get additional cashback bonuses whenever you purchase airtime and pay bills using the Branch wallet.
In addition to that, you can also request for a physical Mastercard debit card that will be delivered to you, and can be used to perform all offline and local online transactions.
Read also: How to get virtual Visa & Mastercard debit cards to be used for online transactions here in Nigeria.
So, it's basically the banking app that you're used to, but this time, with added benefits.
And that's basically all that there is to know about the Branch loan app, one of the best, most trusted, and most popular loan apps on the continent right now.
If you have any questions, kindly leave them in the comments below, and give this post a thumbs up by sharing it if you find it helpful, and as always, I'll see y'all tomorrow, #peace out.