Advertisements
Okay, so, fast forward to March 17, 2022, Samsung has just announced what will later become its most popular midrange devices for the year, the Samsung Galaxy A33 5G, and the A53 5G phones.
But for now, we'll be majorly focusing on the A53 5G, because why not? This is the most popular one out of the bunch.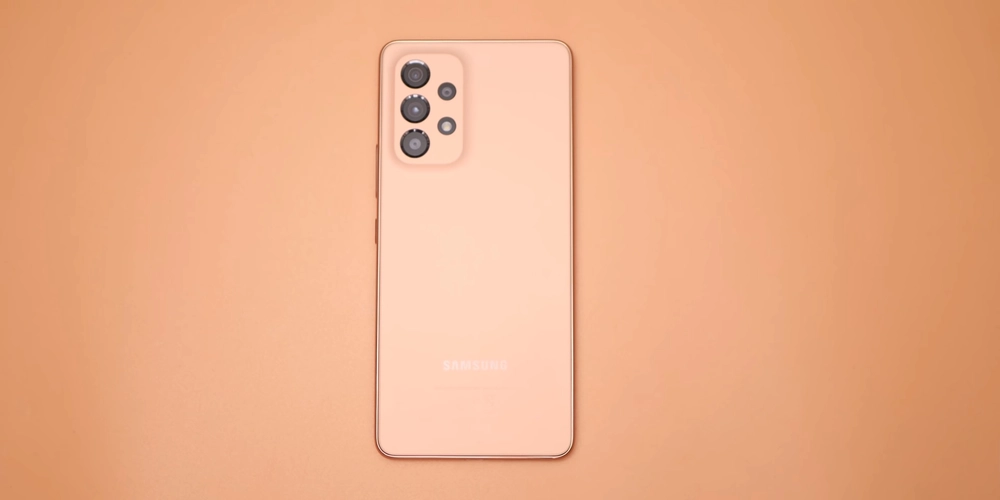 So, you're ready?
Sure, then let's begin. #enjoy.
Read also: How to buy phones on loan or credit, and pay in monthly installments, right here in Nigeria.
The Samsung Galaxy A53 5G First Impressions & Overview
Desing & display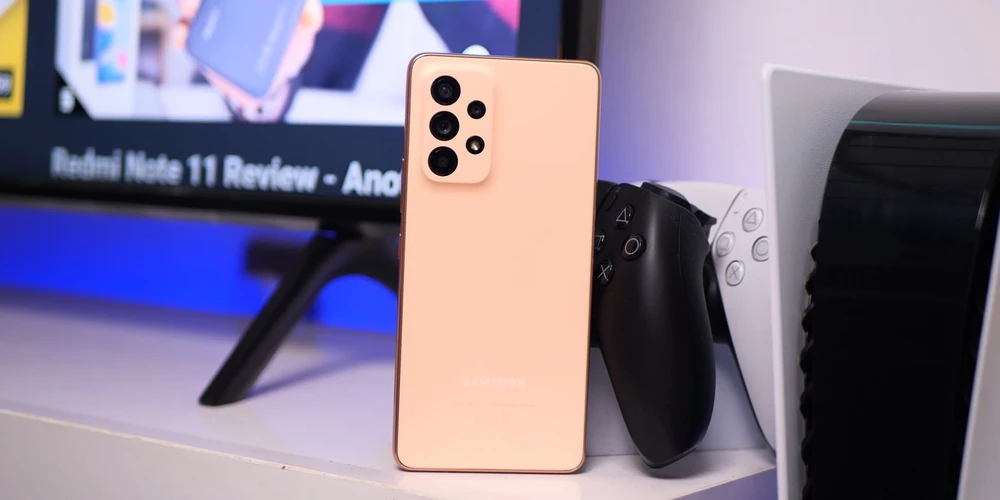 So, to kick things off, I'll start by saying that if you've seen the Galaxy A52, A52 5G, or A52s 5G from last year, then you've seen the new Galaxy A53 5G phone.
Yes, it's that simple.
Read also: Our Samsung Galaxy A53 5G vs the Galaxy A52 5G in-depth comparison.
In terms of design, and at first glance, the phone looks nothing drastically different from the phone or phones it succeeds over, but they're still some subtle changes on it, which I'll be pointing out in a bit.
So, it comes in a plastic build with a matte finish on it, and a plastic frame as well with a shiny metallic finish.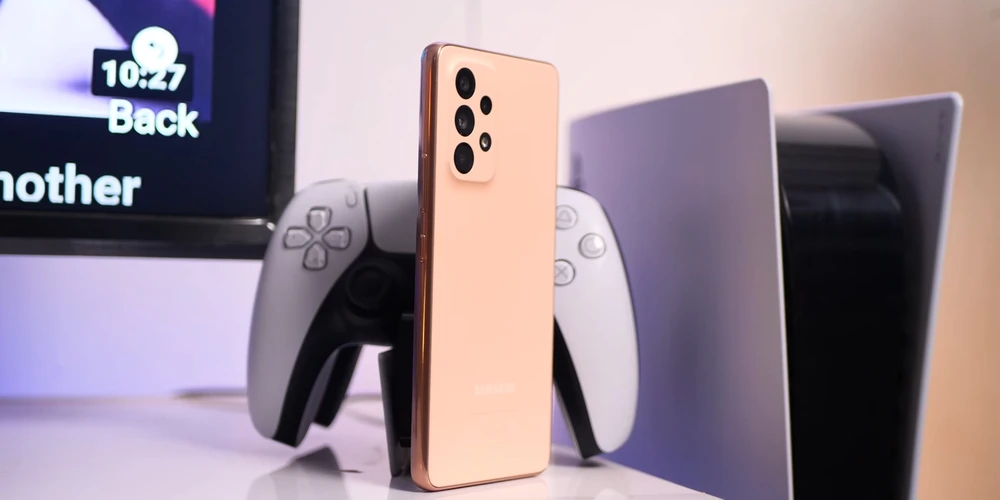 The camera module on the back looks nothing different from what we saw on the A52(s), but if you look closely enough, you'll notice that it's more squared off on the A53 5G than it is on the A52, similar to what Samsung did with the camera modules of the S22 and S22+ Plus moving over from the S21 series.
The front and back edges of the phone are completely flat with the frame, unlike the subtle curved edges we saw on the A52, especially on the back.
And one more major difference between the A53 and A52 in terms of design, which is a sad one by the way is the removal of the 3.5mm headphone jack from the bottom of the phone.
Yes, it's gone, and there's absolutely nothing anyone can do about that. And as if that isn't enough problem to worry about, another thing that has been removed from the A53 5G is the charging brick.
Yes, opening the box of this phone, and the first thing you'll notice is how slim it is, and that's because it doesn't contain a charging brick in it.
But aside from the removal of the headphone jack and charging brick, the Samsung Galaxy A53 5G retains everything that we've come to love from the A52 series like the IP67 dust and water resistance rating, the stereo speakers, the 6.5 inches 1080p+ 120Hz Super AMOLED display, etc.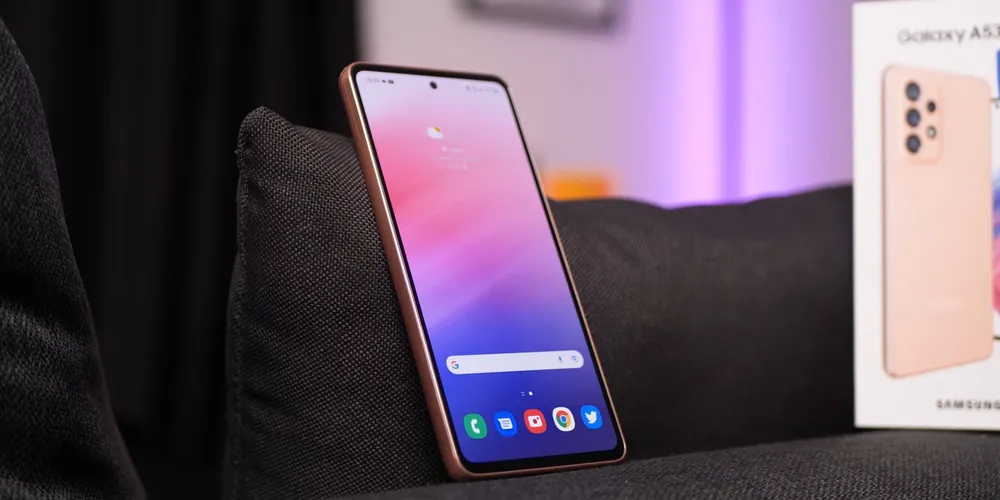 Read also: The best Samsung phones with 90 & 120Hz high refresh rate displays.
And one more subtle change which is not exactly noticeable at first glance is that the A53 5G is a tad bit shorter, coming in at 159.6 mm vs 159.9 mm on the A52 series, it's also a bit narrower, measuring about 74.8 mm in width vs 75.1 mm on the A52 series, and it's even a bit thinner too at 8.1 mm vs 8.4 mm on the old model.
These are things that you might or might not notice just by looking at the phones side-by-side, but you'll definitely feel the change when you hold them in your hands, as the new phone feels a bit more comfortable to hold and use with one hand, not that the old phone was uncomfortable to hold and use in the first place though.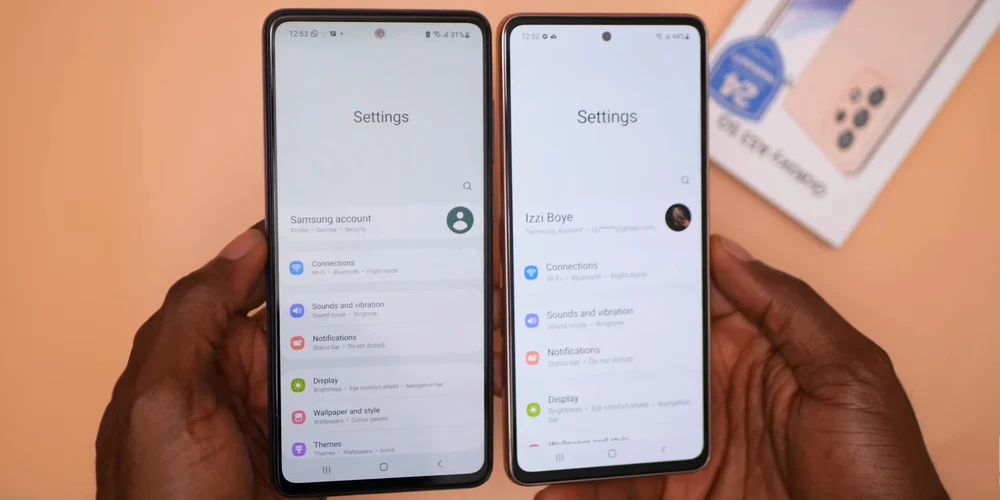 I already told you about the display, which is exactly nothing different from what we had on the A52 5G and A52s 5G, a 6.5 Inches 1080p AMOLED panel, ticking the clock at 120Hz, making it the best display that you can find on any Samsung mid-range phones to date.
Performance & software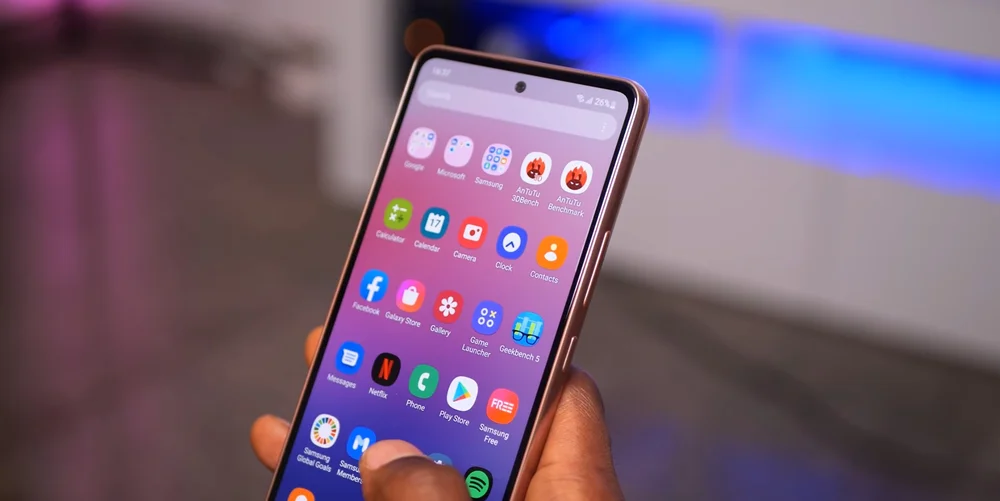 Now, moving away from the design and coming to the internals, this phone packs what has come to be known as the Samsung's Exynos 1280 processor, it's a new 5nm processor, and in case you're wondering, some early benchmark results have revealed that it performs better than the Dimensity 900 chipset, and comes very close to the Snapdragon 778G processor used on the A52s 5G, if not even better too.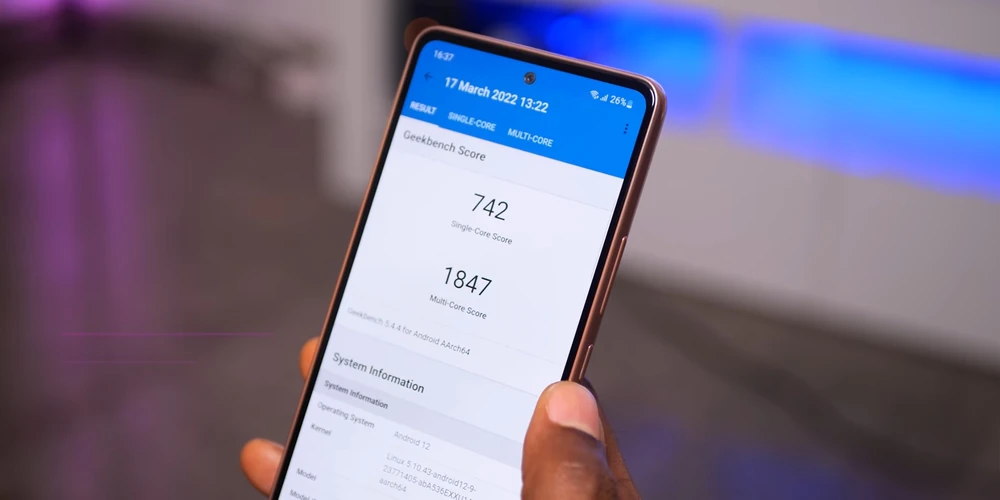 So, in terms of performance, it shows to be a very promising chipset, so those who were hoping that the A53 5G would have come with the Snapdragon 778G processor shouldn't start throwing stones just yet, and perhaps, wait for some real-life comparison videos between this phone and the A52 5G and A52s 5G, and some other phones running on the Snapdragon 778G chipset before passing their final judgment.
Compare now: Samsung's Exynos 1280 vs Snapdragon's 778G chipsets.
And in terms of RAM and storage, it comes in 6 and 8GB RAM flavors, and the storage options are divided into 128GB and 256GB options, and it has a dedicated micro-SD slot that can be used to further double or triple the storage, all the way up to 1TB.
And when it comes to software, unsurprisingly, the phone ships with Android 12 and Samsung's One UI 4.1 software version out of the box, and one thing that makes this phone stand out and sets it apart from other competing mid-range phones alike, such as the Xiaomi Redmi Note 11 series is the fact that Samsung has promised up to 4 years of major Android version updates for the A33, A53, and A73 5G series, and up to 5 years of security updates, making them on par with the $1000+ flagship Galaxy S22 series.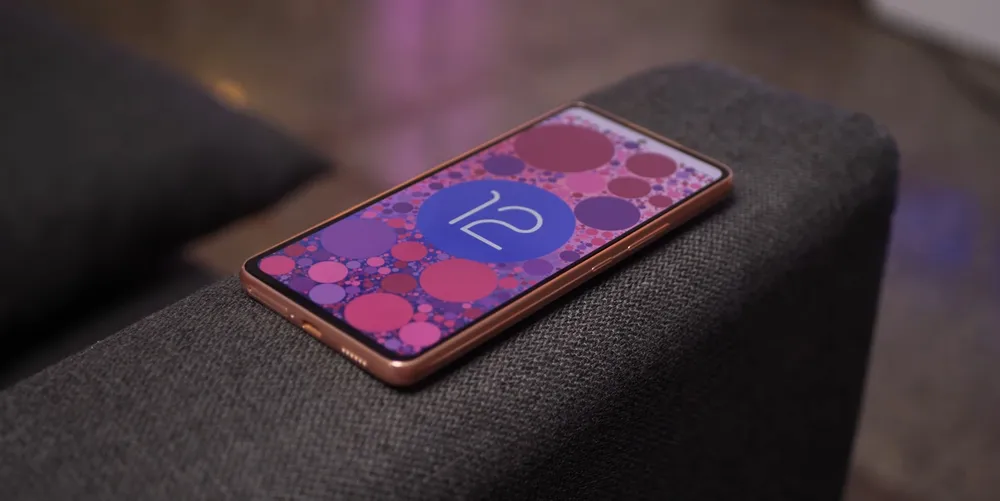 For reference purposes, Samsung also made a similar promise of up to 3 years of major Android version updates during the launch of the Galaxy A52 and A72 series last year, and as we speak, these phones are already running the latest Android 12 with One UI 4.0 software version on them, even when other midrange phones from competing brands are not guaranteed getting monthly security updates.
So, if you need a phone that is future-proof, a phone that you can use for the next 3 – 4 years to come without it feeling outdated, then this is the phone to get.
Cameras
For cameras, you get exactly the same setup that you got on the Galaxy A52 series from last year, a 64MP main cam with OIS, this is followed closely by a 12MP ultrawide cam, a 5MP macro cam, and a second 5MP depth sensor, while on the front is a 32MP front-facing cam sitting inside the punch hole cutout.
One feature everyone was expecting from the Galaxy A53 5G, including myself, was the ability to shoot 4K videos at 60fps, but unfortunately, that didn't happen, and video recording capabilities still maxes out at 1080p@30/60fps, and 4K@30fps.
But on the bright side, it's not a bad thing, considering the fact that you don't even get 1080p@60fps on other midrange phones alike, not to talk of 4K.
So, the Galaxy A53 5G, including even the A52 series from last year, are still some of the most versatile midrange phones that you can get right now when it comes to camera and video recording capabilities.
And again, Samsung has promised improved night photography and videography on the new phone, and a better overall camera performance even if the sensors used were simply carried over from last year.
And here are some sample photos taken with the cameras of the new Galaxy A53 5G smartphone.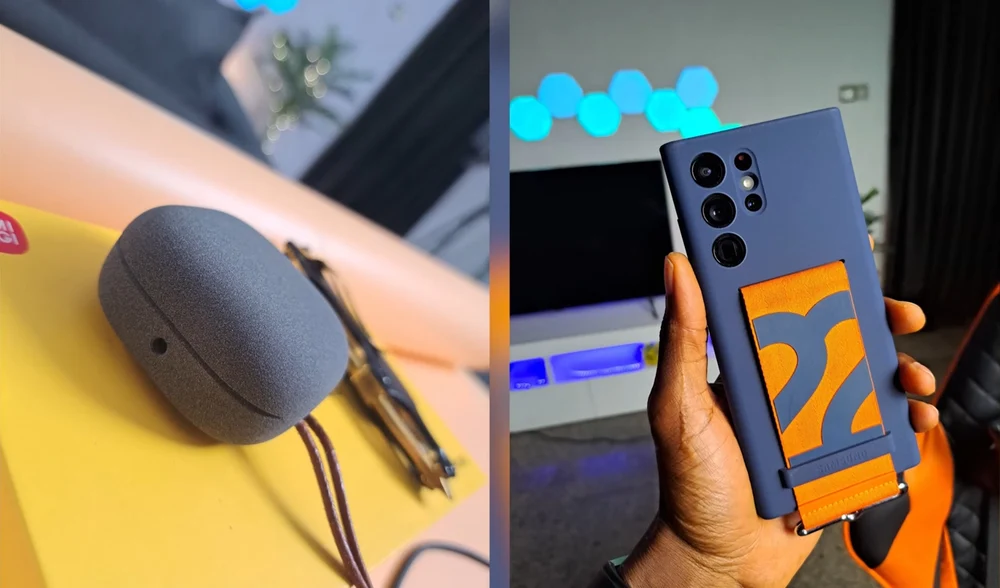 Battery & Price
The Samsung Galaxy A53 5G got a slight upgrade in battery size over its predecessor, even while being a tad bit thinner than it.
We're talking of a 5000 mAh capacity power cell on here, which is 500 mAh more than what we had on the A52(s), so, we should be expecting improved battery performance on the new phone, and Samsung is even boasting of 2-day battery life on the phone, but only time will tell about that.
You still get the 25W fast charging speeds that debuted on the last year's model, but this time, you don't get the accompanying charger in the box, not even a 15W one, too bad of Samsung, I must say.
And finally, coming to the price, the Samsung Galaxy A53 5G retails for $450 for the base configuration model, which gives you 6GB of RAM, and 128GB of storage, which is a significant price hike from the $350 and $430 starting prices of the Galaxy A52 and A52 5G from last year, respectively.
But, it's understandable, since it seems that Samsung will not be releasing a 4G-only version of the Galaxy A53 this year, so, it's safe to say that it's a slight ($20) bump in price from the Galaxy A5 5G, and not the regular A52.
Conclusion
So, to conclude this first impression, and overview article of the new Samsung Galaxy A53 5G phone, I'll say that it's a very solid mid-range phone overall, though not drastically different from what we had last year both in terms of look and feel, so, I feel it's more targeted at people who are coming from older Galaxy A models like the A50, A51, the A70, and A71 phones, who feel that their phones are due for an upgrade, then the Galaxy A53 5G is very nice and recommended phone to upgrade to.
It's got almost all the features that you'll get on the more expensive Samsung flagship phones like an official IP rating, stereo speakers, a 120Hz AMOLED display, high-resolution main camera sensor with OIS, and even four years of major Android version update, which is something you don't get on other competing midrange phones from other brands.
So, it's a very solid "YES" from me.
And that wraps it up for today for the Samsung Galaxy A53 5G smartphone overview and first impressions, if you have any questions, kindly leave them in the comments section below, and if you enjoyed reading this post, then kindly give it a thumbs up by sharing it, and as always, I'll see y'all tomorrow, #peace out.
Image Credits: Izzi Boye.
Read also