Okay, so, just a few days after the new Camon 18 series from Tecno were leaked with pictures of them plastered all over the internet, the company officially took to the stages themselves only yesterday, to formally introduce the smartphones to the world, and today, let's take a good look at the Tecno Camon 18 Premier, which supposedly now stand as the best Tecno Camon smartphone ever produced to date, and even besting out the flagship touted Tecno Phantom X in many areas.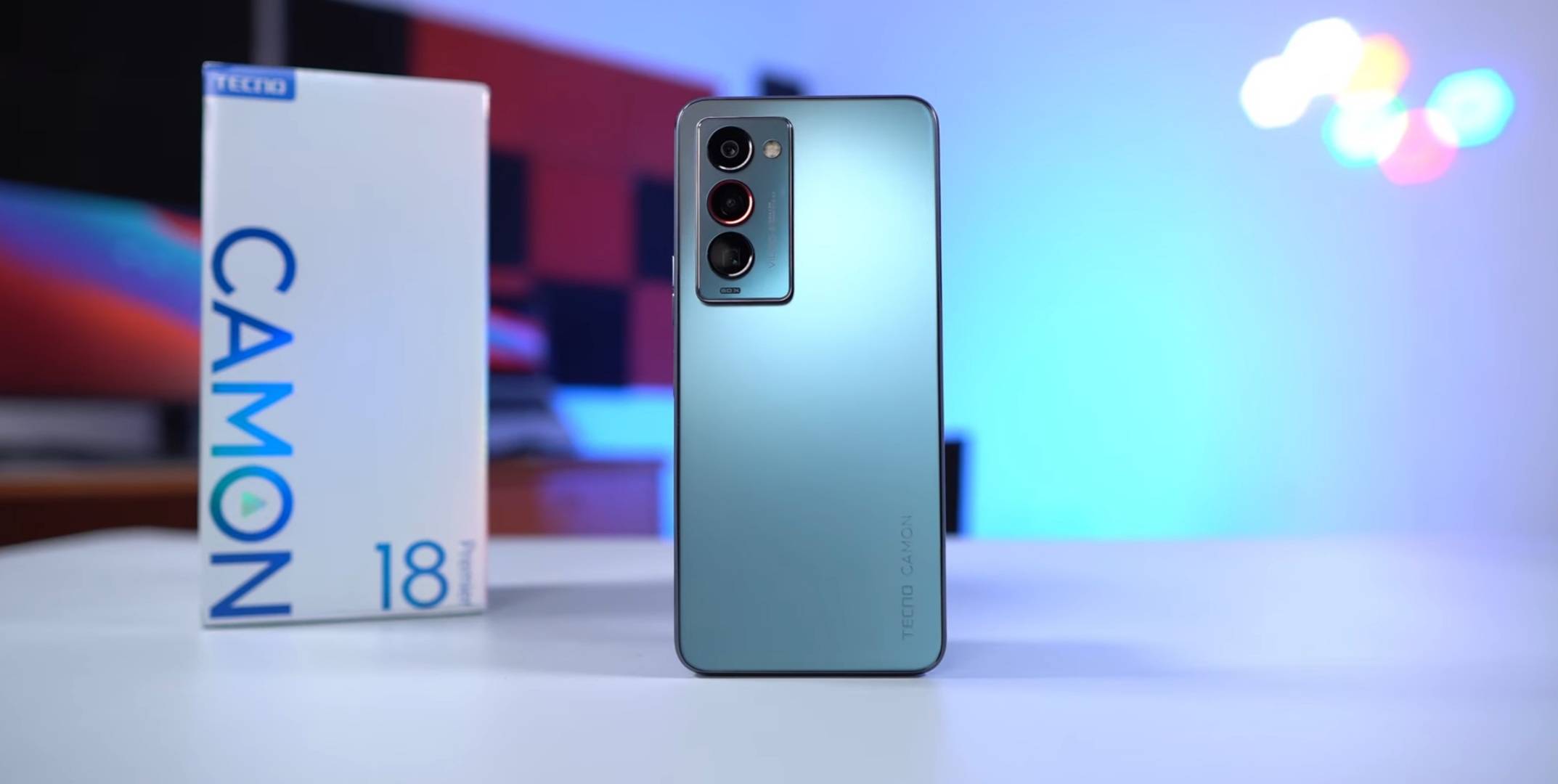 Today, we'll be touching every aspect of the phone from the design to the display, the cameras, processors, and every other thing in between, and we'll also be seeing what has changed from the Camon 17 Pro that was also announced earlier this year, and if you should get this phone if you already own the Camon 17 Pro or any older Tecno Camon smartphone.
So, without further ado, let's get started.
Read Also: 10+ best Tecno smartphones that you should definitely buy this year.
Tecno Camon 18 Premier key specifications

.
6.7 inches 1080p+ 120Hz AMOLED display.
Glass build.
64MP main camera.
12MP gimbal stabilized ultrawide sensor.
8MP 5x zoom periscope telephoto sensor.
Mediatek Helio G96 processor.
8GB RAM + 256GB expandable internal storage.
Android 11 + HiOS 8.0
4750mAh battery + 33W fast charging.
Design & display
In terms of design, and with no doubt at all, the Tecno Camon 18 Premier is one hell of a good-looking piece of hardware, and in a way, it kind of reminds me of the Oppo Reno6 5G from the Oppo Reno6 series that was announced earlier this year, and even the recently announced Infinix Zero X Pro phone too.
Seems Tecno has been taking design lessons from someone lately, lol.
So, it comes with this boxy design, featuring "glass" on the back, with a flat polished shiny frame running around the phone, making it look very very premium.
You have the choice to choose between two color options, namely Polar Night, and Vast Sky, and the one we have here is the Polar Night color option, courtesy of Valor reviews, and it sure does look beautiful, and even adds a bit more premium vibe to it with the red accent on the gimbal-stabilized ultrawide camera sensor.
In terms of display, the phone comes with a 6.7 Inches Full HD+ (1080p+) 120Hz AMOLED display, easily making it the best display you can get on any Tecno smartphone to date, and even beating the flagship touted Tecno Phantom X's display in its game.
The display is plenty sharp and vibrant, I mean, this is an AMOLED display that we're talking about right? So, we shouldn't be expecting anything less, and gone are the days when we only get 720p LCD displays on Tecno smartphones, yay!!!!!!.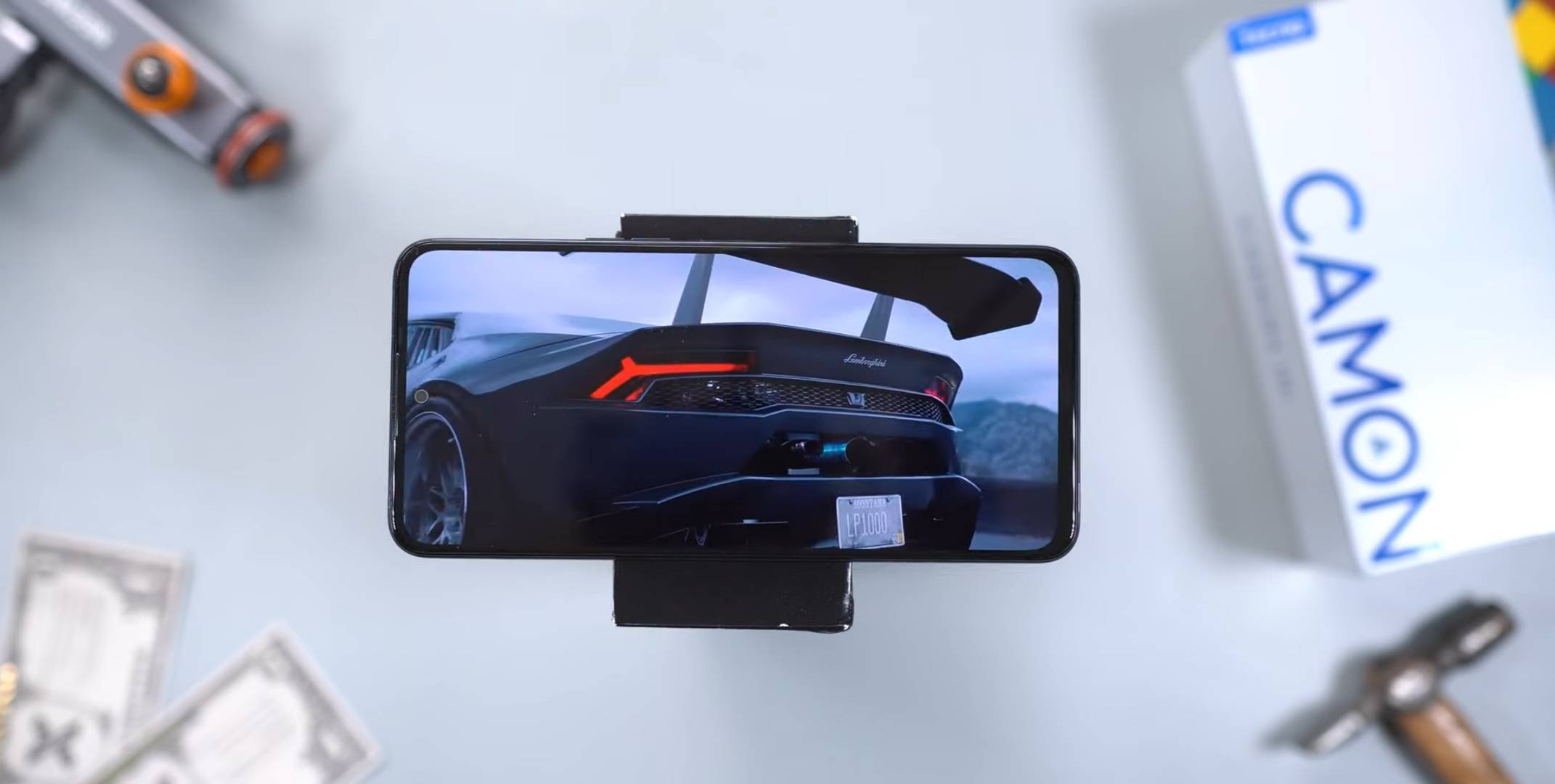 But, there's one caveat though, and what is it?
Well, it's nothing too serious, but, I just felt that I should point it out that the Tecno Camon 18 Premier's display does not have support for any HDR capability of any sort, and personally, I don't think it should be something that should make anyone want to change their mind about getting this phone if they wanted to, I mean, how many non-techy people even know what HDR stands for, and how many people actually makes use of it in their day to day use on their HDR-supported smartphones?
See?
Cameras
Turning the Camon 18 Premier to its back, we can find three distinct camera sensors, and personally, I like the new route that Tecno has been taking for its phones in recent times.
So, once again, gone are the days when we have the back of the Tecno smartphone all clogged up with lots of camera sensors, where most of them do nothing but just to decorate the smartphone and create the illusion of more cameras, without them actually adding anything meaningful to the actual quality of photographs taken with the smartphone's many cameras.
So, this time, we have just a few, but actually usable camera sensors, with the first one being a 64MP main camera sensor, the second one comes in as the star of the show, featuring a 12MP "gimbal-stabilized" ultrawide sensor, and the last one being an 8MP periscope telephoto 5x optical zoom camera.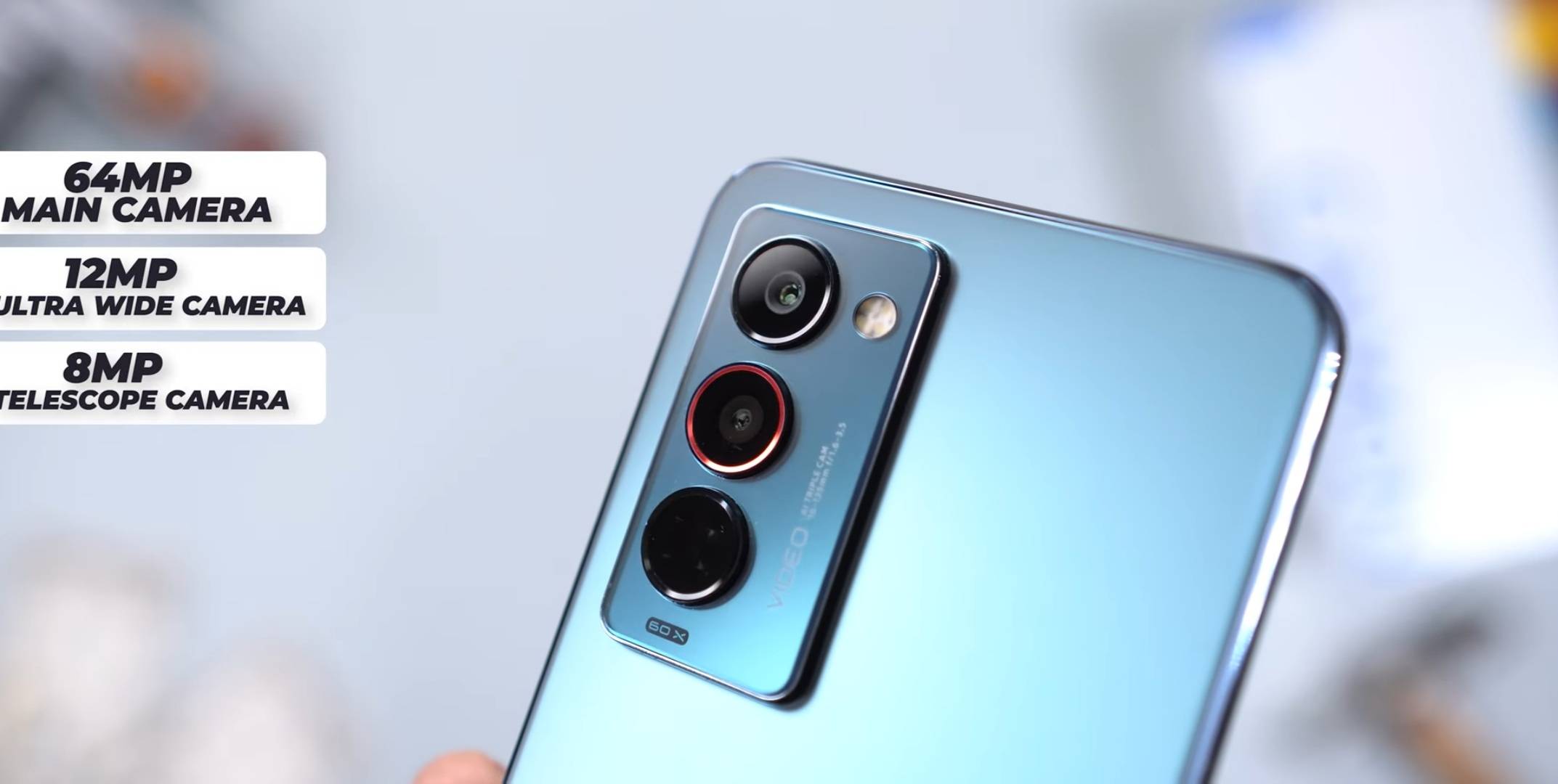 So, you see, just three camera sensors, but ones that are actually usable. And as if that's not enough, the Tecno Camon 18 Premier still comes with a 32MP front-facing camera sensor neatly tucked inside the hole punch cutout located on the top center position of the display;
And in terms of the actual photography quality coming out of this thing, here's a short video from Valor Reviews on YouTube, showcasing that aspect of the smartphone.
Now, let's talk about the performance of the phone, shall we?
Yes.
The Tecno Camon 18 Premier's processor, and how it performs

.

So, first of all, on the spec sheet, you'll see that the Tecno Camon 18 Premier comes with a Mediatek Helio G96 processor with 8GB of RAM, and 256GB of expandable internal storage capacity.

And if you're asking how this processor differs from the Helio G95 that the Camon 17 Pro came with earlier this year, well, there's absolutely no difference in terms of performance, except that the G96 was built to support up to 120Hz refresh rate at up to 1080p screen resolutions, which the Camon 18 Premier fully utilizes, and it can support camera megapixel resolutions of up to 108MP.

So, how does the Camon 18 Premier perform in day-to-day usage of the smartphone? Well, I bet you already know the answer to that question, which is "flawless".
Yes, the C18 Premier armed with its Helio G96 processor and 8GB of RAM, eats performance for breakfast. It will effortlessly handle any task you throw at it without breaking a sweat, be it gaming, multitasking, video streaming, photography, whatever, you just name it, the Camon 18 Premier is capable of doing all that, and will even ask you for more.
Android version, and overall user software experience

.

As expected, the Tecno Camon 18 Premier comes running Android version 11 out of the box, but, what wasn't expected was the fact that the phone comes with a new version of Tecno's HiOS custom UI on it, the HiOS 8.0.

So, what has changed from this new version of HiOS from the now old HiOS 7.6 version?

Well, in terms of function and features, none at all, but, in terms of looks, well, Tecno has made some slight cosmetic retouches here and there to give it a slightly more matured and tailored look, but, not without taking some design cues for the second time from more prominent smartphone makers, like Apple, and its iconic iOS UI, and even Xiaomi, and its iconic MIUI.

So, the most obvious one here is, a swipe down from the left side of the home screen brings down your notification tray as usual, but, it no longer has the quick notification toggles that used to be there, and to get those, you have to swipe this time from the side right of your Camon 18 Premier's home screen, and it even looks very different this time.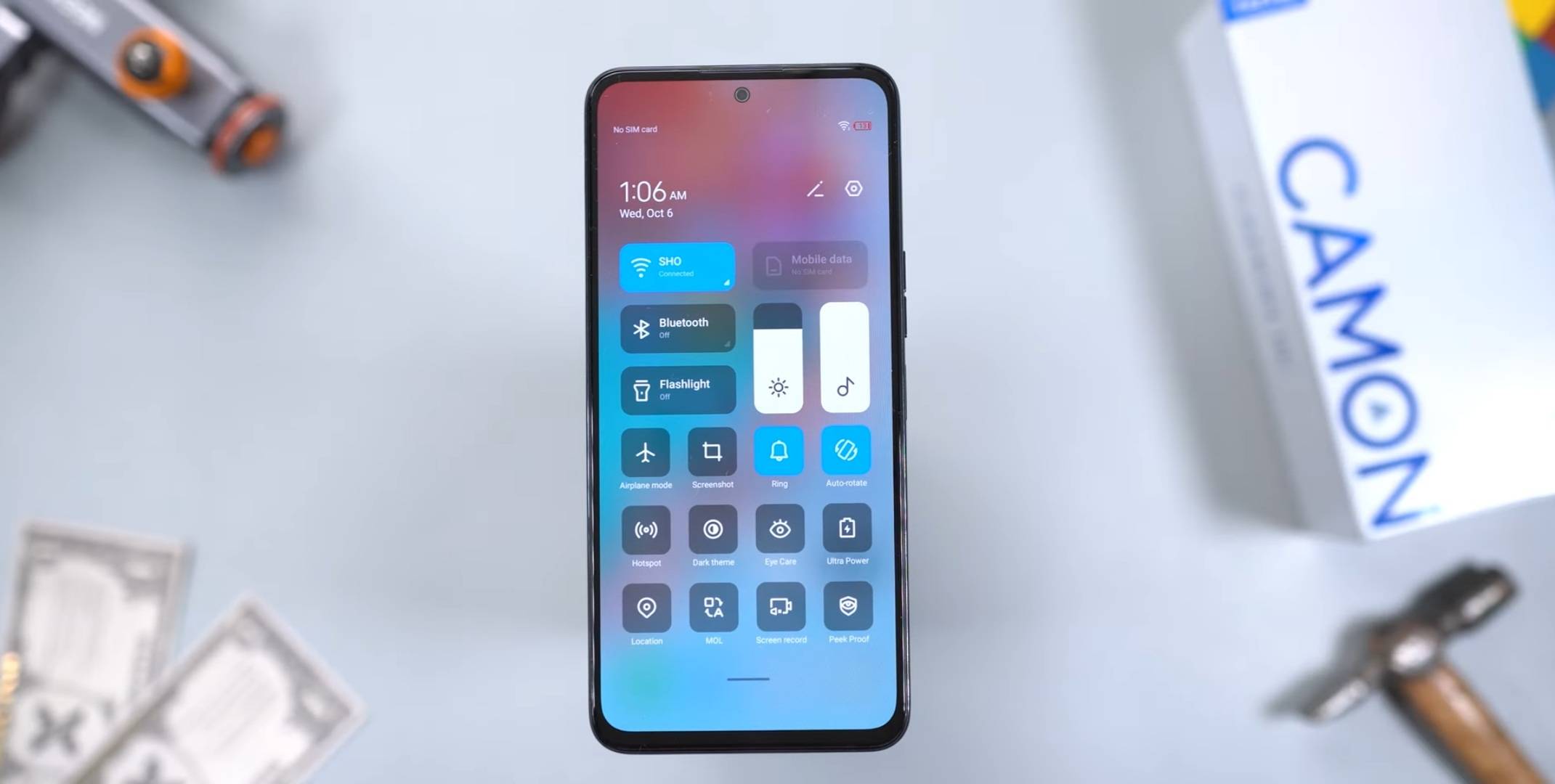 iOS, is that you? Lol… "laughs wickedly".
But, aside from that, every other aspect of the UI should function the same way they've been doing before on older versions, and since the Camon 18 Premier comes with an OLED display, it means there should be a toggle inside the UI to turn on and off the always-on display right?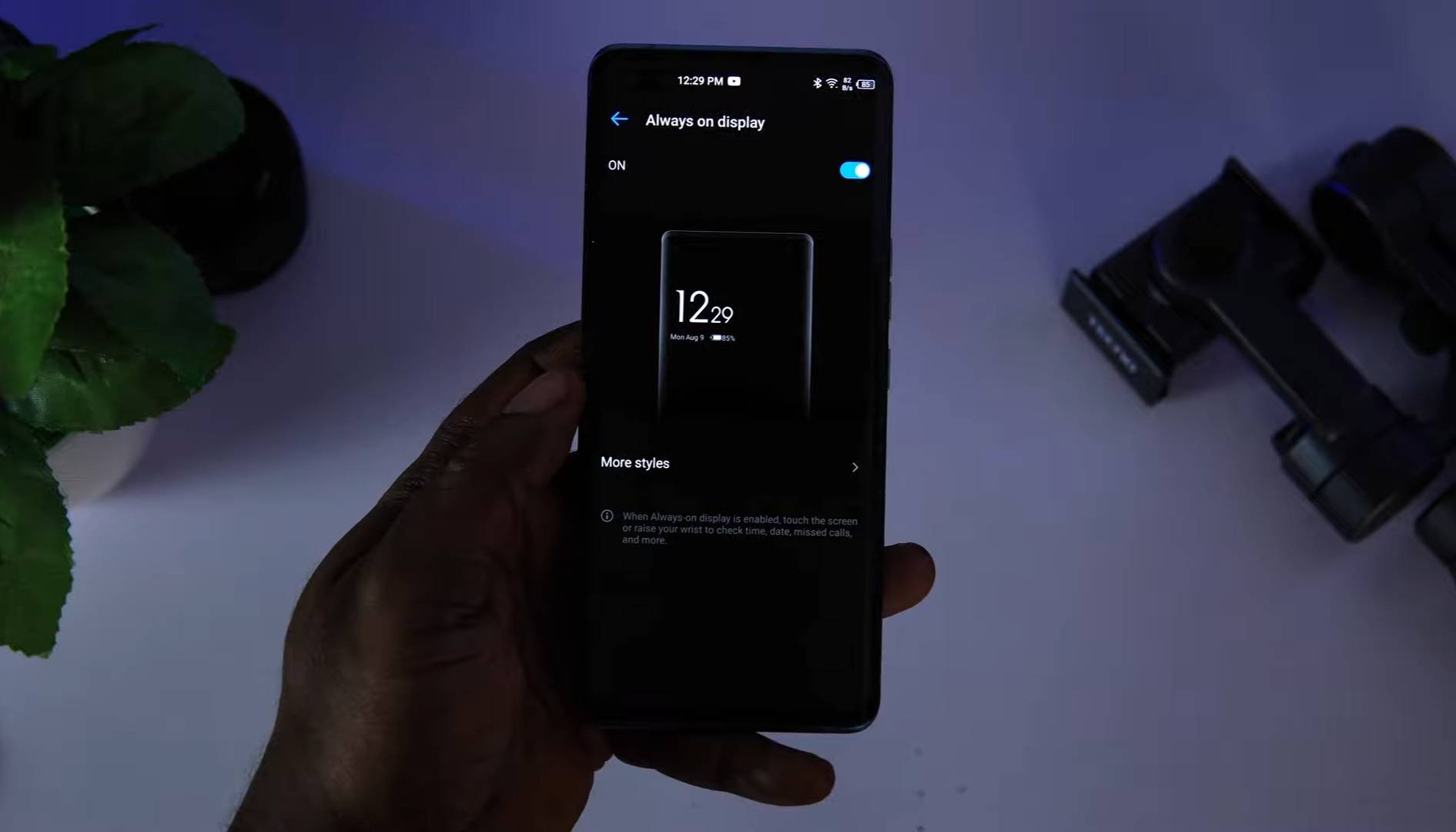 Well, it does.
Battery and charging

.

For battery, you're getting a 4750mAh capacity battery on the Tecno Camon 18 Premier, which is a clear downgrade from the 5000mAh power cell that we got on the Camon 17 Pro, but, who knows, maybe this was done because the newer chipset is more efficient in managing battery, or to even make the newer phone more compact and comfortable to hold in hand because the Camon 17 Pro is one big and a very uncomfortable to hold smartphone, and secondly, even Apple has proven to us that larger battery sizes do not equal longer battery lives.

And aside from the smaller battery size on the C18 Premier, the phone still utilizes the 33W fast charging feature that we saw on the last Camon model, and even on the Phantom X phone earlier this year, and with this, Tecno is saying this can net you back 64% of your depleted battery percentage in just 30 min of charging, impressive, right?

In terms of actual battery performance or endurance, according to Valor Reviews on YouTube, you should get about 7 hrs of SoT (Screen-on time) on the smartphone in your day-to-day usage, and that is very impressive if you asked me.
Pricing
As of the time of writing this article, the Tecno Camon 18 Premier will be retailing for ₦182,000 ($350) when it finally becomes available for purchase in official and accredited retail stores such as Slot, Pointek, XPark, and Tecno's official store on the Jumia online platform.
Read Also: The best way to buy things on the Jumia online platform, and avoid getting scammed.
The Tecno Camon 18 Premier vs the Tecno Camon 17 Pro
So, finally, let's answer the one big question everyone has been asking so far, how does the Tecno Camon 18 Premier differ from the Camon 17 Pro, seeing the little time gap Tecno gave between the launches of the two smartphones, and should you buy this smartphone if you already own the C17 Pro?
To answer the first question, there are lots of differences between the new Camon 18 Premier and replaced Camon 17 Pro. In fact, with the Camon 18 Premier, Tecno touched literally every aspect of the smartphone, starting from the design, the display, cameras, UI, etc.
So, the Camon 18 Premier is the first Tecno phone under the Camon branding to come with this premium looking glass body, where as every other Camon smartphones before the Camon 18 Premier, including the Camon 17 Pro, all came with a plasyic or polycarbonate material.
The Camon 18 Premier has a new 120Hz AMOLED screen, vs a 90Hz LCD variant on the Camon 17 Pro.
You get an entirely upgraded camera system on the C18 Premier, featuring a gimbal stabilized ultrawide camera, and a periscope telephoto camera sensor.
And to answer the second question, well, personally, if I owned the Tecno Camon 17 Pro, I wouldn't be pushed to upgrade to the Camon 18 Premier, seeing the little time gap between them, but, if you own say something like the Camon 16 Premier, or the something from the Camon 15 lineup, then the Camon 18 Premier is definitely worth upgrading to.
And that wraps it for today on the Tecno Camon 18 Premier quick first impressions and review, kindly tell us what you about this phone by leaving a comment in the comments section below, and if you enjoyed reading this article, kindly give it a thumbs up by sharing it, and as always, I'll see y'all tomorrow, #peace out.