Okay, so, at the just concluded Oppo Inno Day 2021 event, the company seized the opportunity to officially unveil its first foldable smartphone, the Oppo Find N to the world, and this might just be the best foldable phone that we've come to see yet.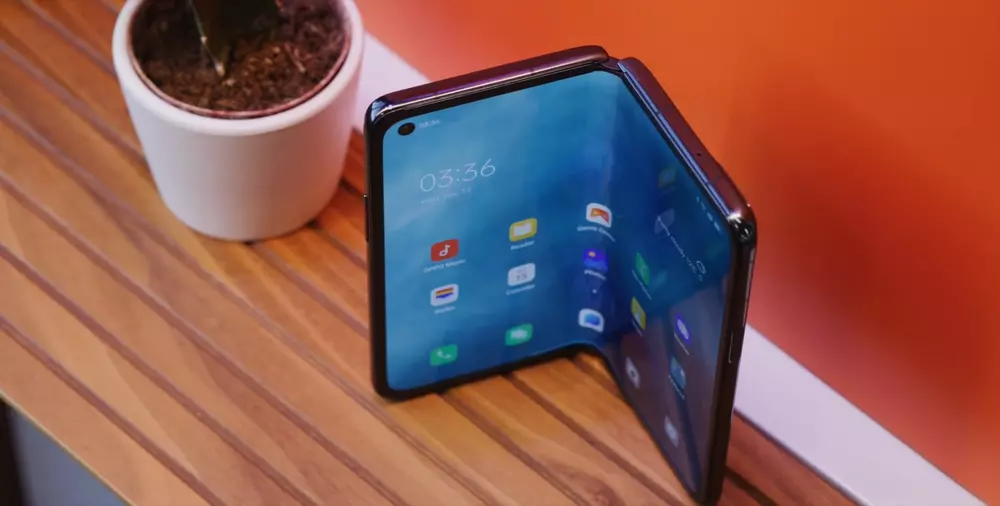 So, for a first-generation product from the company, what do we get with the Oppo Find N, well, quite a handful, but first of all, I want to start by saying that I don't think the Find N should be regarded as a 1st-gen product.
Maybe 1st-gen for the company, but considering the fact that Samsung has actually been experimenting with foldables and selling them for 2+ years now, I think Oppo has learned a lot from their mistakes already, and that's why I don't consider this phone a first-generation product in any way.
But that aside, the Find N is a very interesting smartphone and a wonderful piece of tech that anyone will come to appreciate the moment they set their eyes on it, and hold it in their hands for the first time.
It has that "wow" factor to it.
For starters, Oppo has built a special type of hinge that lets the phone fold completely flat without leaving any gaps in between the two separate panels, and it also helps to reduce the crease that is formed at the middle of the inner display where the screen folds, or so they thought.
So, let's quickly see a brief overview of the Oppo Find N to see what it brings to the table, and see if they're enough to dethrone the current reigning king of foldables in 2021, the Galaxy Z Fold3.
So, you're ready?
Well then, let's get started. #enjoy.
Watch Now: Oppo teases its first smartphone that will have an extendable and retractable zoom camera module.
Oppo Find N: Overview
Okay, for starters, this is the smallest and cutest looking folding phone that you can find right now outside the Flip category.
It measures about 132.6 × 73 × 15.9mm when folded, and 132.6 × 140.2 × 8.0mm when unfolded and weighs a massive 275g in heftiness.
For comparison, the Galaxy Z Fold 3 measures 158.2 × 67.1 × 14.4-16 mm when folded, and 158.2 × 128.1 × 6.4 mm when unfolded, and for visual size comparison, here is it standing beside the Z Fold3.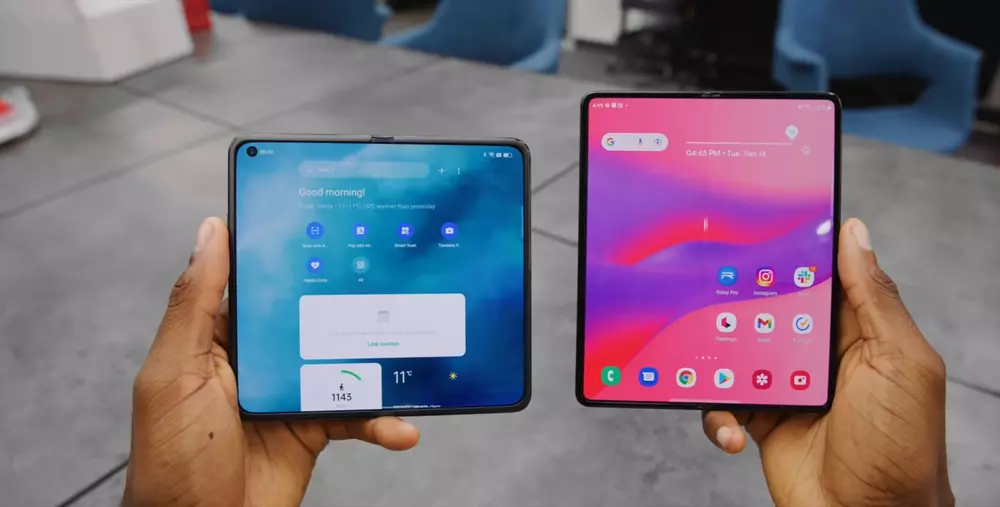 It follows the Galaxy Z Fold's inward folding mechanism and employs a second screen on the outside. And speaking of screens, the outer display comes in at just 5.49 inches in diagonal, which gives it its small footprint, it's a 988 by 1972 pixels resolution display pumping out about 401 PPI (Pixels per inch) density, it's an OLED panel as expected, and it's covered with Corning Gorilla Glass Victus.
The only downside which I must say this outer display has is the lack of a high refresh rate of any sort, not even 90Hz at least, considering that the competition is offering this feature on their respective foldables.
And coming to the inner display, we're looking at a massive 7.1 inches goodness of foldable OLED display with the resolution locked at 1792 x 1920 pixels and pumping out a total of 370 PPI density, and being an LTPO panel, the 120Hz refresh rate can magically drop to 10Hz and back to 120Hz whenever needed, and it even boasts of up 1000nits of peak brightness.
The display is very similar to that of the Galaxy Z Fold3 5G, and in fact, Samsung was even the one that supplied them the panels for it, so, no surprises here.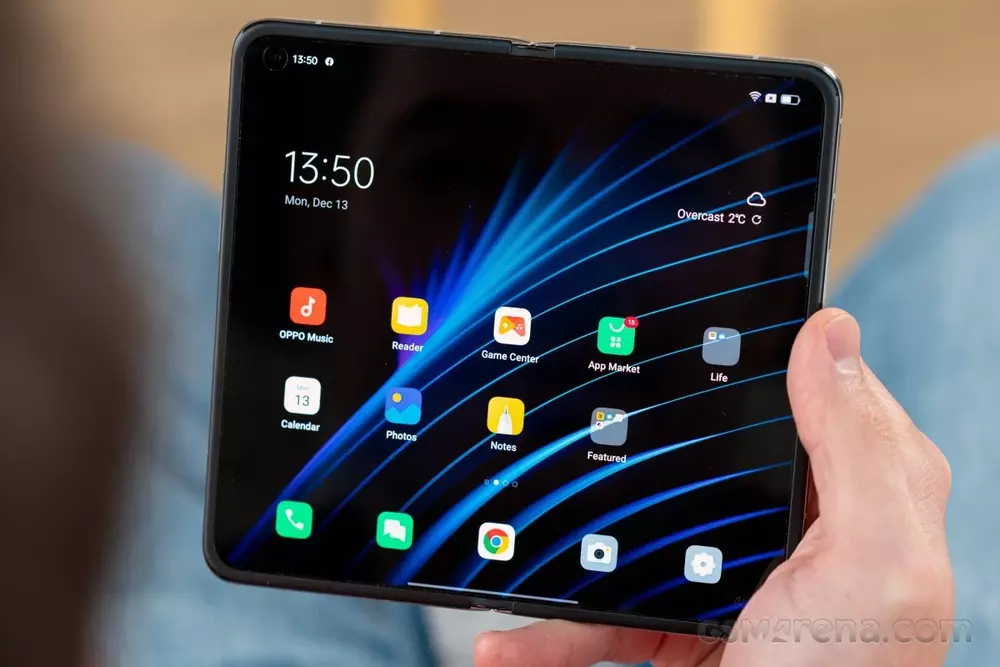 Now coming to the overall look of the phone, like I said before, this is currently the smallest foldable phone you can find right now outside the Flip category, and easily one of the cutest foldable phones too.
It sports a glass body design on the second segment of the phone, and like the cover display, it's also covered with a sheet of Corning Gorilla Glass Victus. Oppo offers the phone in three colors, namely; Black, White, and Purple.
The back panel has three cameras on it with dual-LED flashlights, and they all sit on an elevated platform, reminiscent of the Oppo Find X3 series from earlier this year.
The frame is made out of polished aluminum and it gives off this premium stainless steel vibe, it is flanked by the power button that doubles as the fingerprint reader on the right, and the volume rockers on the left.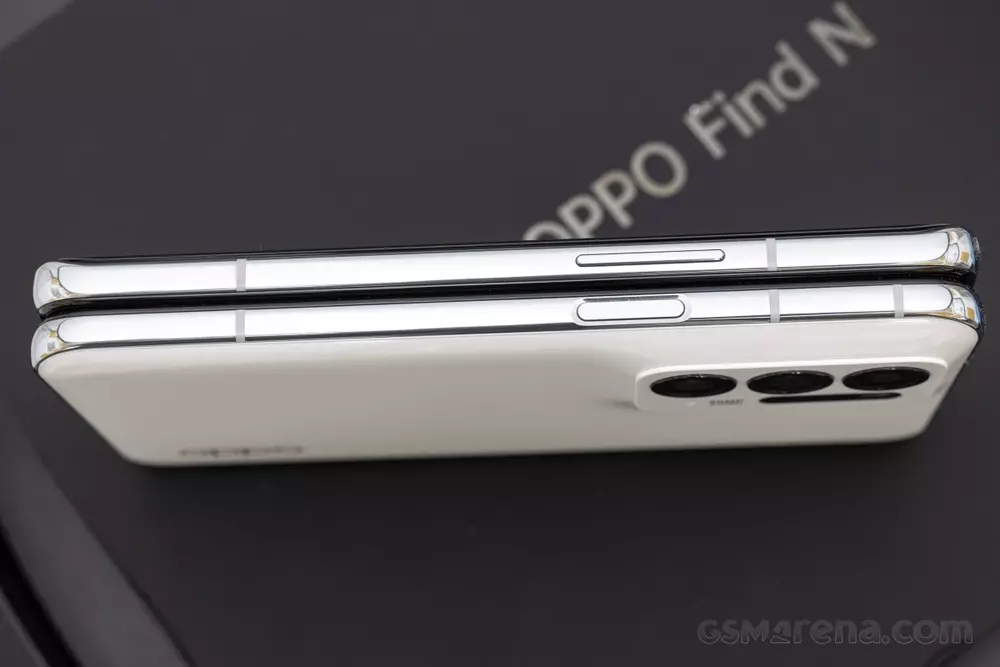 The top of the phone has nothing except for a single microphone that aids in noise cancellation, and the bottom of the phone is where you'll find all the ports and holes you'll ever need.
There you can find a USB Type-C charging port that supports up to 33W charging speeds, a stereo speaker setup, a SIM slot, and a second microphone that is used for making phone calls.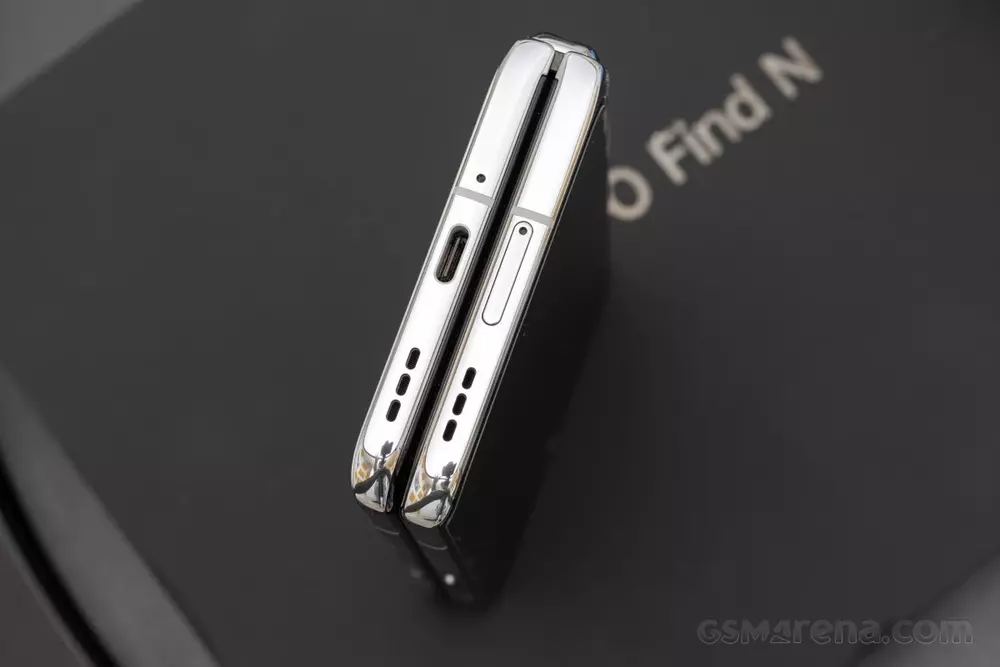 And coming to the cameras, aside from the three 50MP (wide) + 13MP (telephoto) + 16MP (ultrawide) cameras, the Oppo Find N still has additional two separate cameras for taking selfies, and if your guesses were correct, yes, there is one on the outer display in a center-positioned hole punch cutout, a 32MP sensor, and the second one is located on the inner foldable display, and it uses same 32MP sensor as the outer one.
I already told you that the Find N can fold without leaving any gaps in the middle, and that's because Oppo has designed a new hinge called the Flexion hinge, and it creates this unique water-drop shape when the phone is closed or folded.
The Find N ships with Android 11 out of the box with ColorOS 12 sitting on top of it, and for performance, the phone is powered by a Snapdragon 888 processor with 8 or 12GB of RAM, and you can have it with 256 or 512GB of fast UFS 3.1 storage while powering the whole thing is a 4500mAh capacity battery, and like I said before, it can do up to 33W fast wired charging, 15W for wireless charging, and can even be used to charge other devices or smartphone accessories via the reverse wireless charging, up to 10W.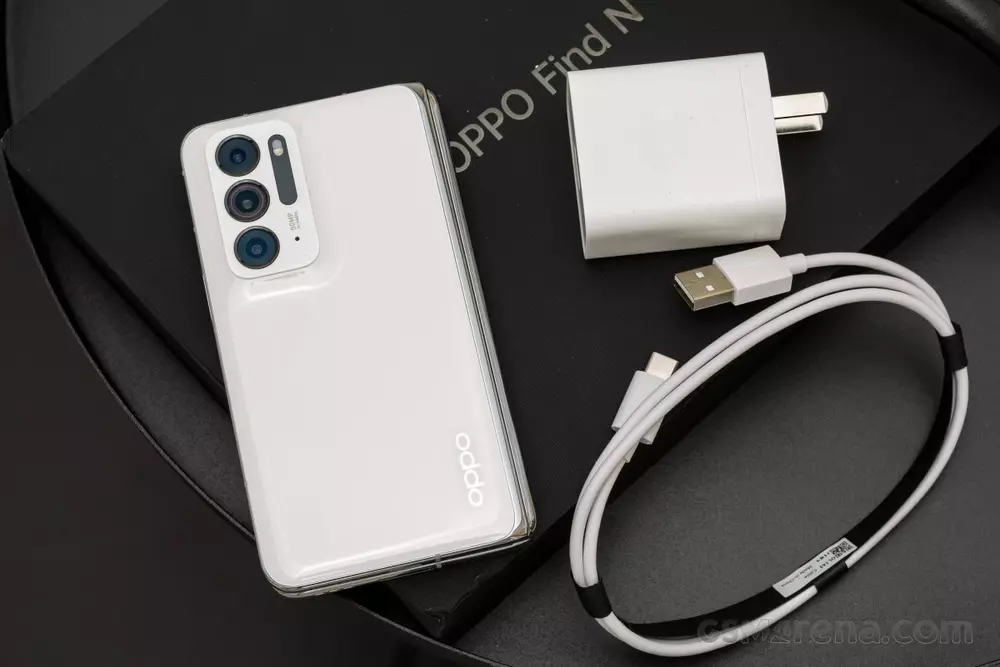 First Impressions
So, having seen the brief overview of the Oppo Find N, the question you should be asking right now is;
Does this phone really impress?
Of course, it does, I mean, for a first-try product from the company, they really nailed it hard with the compact form factor, the overall design and looks, the slightly larger battery than the Z Fold3's, and even faster wired and wireless charging, oh, and lest I forget, did I mention that the Oppo Find N costs significantly less than the Z Fold3.
Although, it's still exclusively available to China alone, when converted, the Find N costs just about $1,200, whereas the Galaxy Z Fold3 starts at $1,500.
So, in theory, the Oppo Find N is a very appealing piece of hardware, and one that will appeal to many, but, can it beat the Z Fold3 to the game?
Can the Oppo Find N beat the Galaxy Z Fold3

?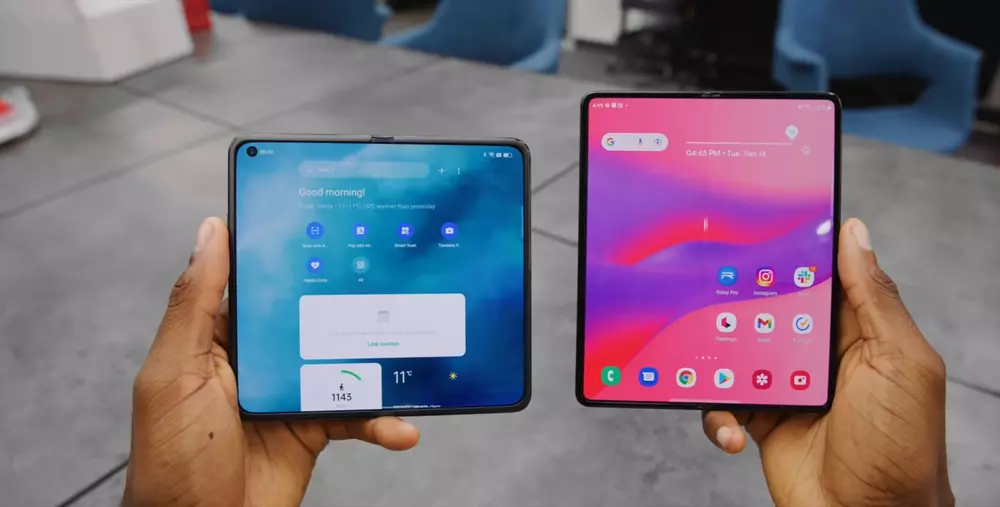 Ummmm, perhaps in the future, but definitely not anytime soon.
I mean, the Find N once again is a job very well done, but, Samsung in question here is a more established and reputable company, they've been making foldables for some years now, so we can argue that they have better hardware and software optimizations and even features to use with their foldable that are lacking on the Find N, for example, the S-Pen.
Furthermore, if anyone wants to get a foldable smartphone today, the first thought that will come to mind is a Galaxy Z Fold or Z Flip, and even the Oppo Find N is still exclusive to China alone, with no exact date of when it will be globally available, so Oppo has to do a lot more than just making compact phones and gapless folding designs if they really want to compete with the current reigning champion of foldables.
So, in conclusion, I think the Find N is a step in the right direction, but it's still no match for the Z Fold series from Samsung, maybe they will later in the future, and that is if only the company keeps making foldables, but I don't think that period will be anytime soon.
And that wraps it up for today on our brief overview and first impressions of Oppo's first foldable smartphone, the Oppo Find N, now kindly tell us what you think about this phone by leaving a comment in the comments section below, and if you enjoyed reading this piece, kindly give it a thumbs up by sharing it, and as always, I'll see y'all tomorrow, #peace out.