Okay, so the date is 15th September 2021, and Xiaomi has just taken to the stage to announce its second-most-anticipated flagship phones for the year, the Xiaomi 11T and 11T Pro.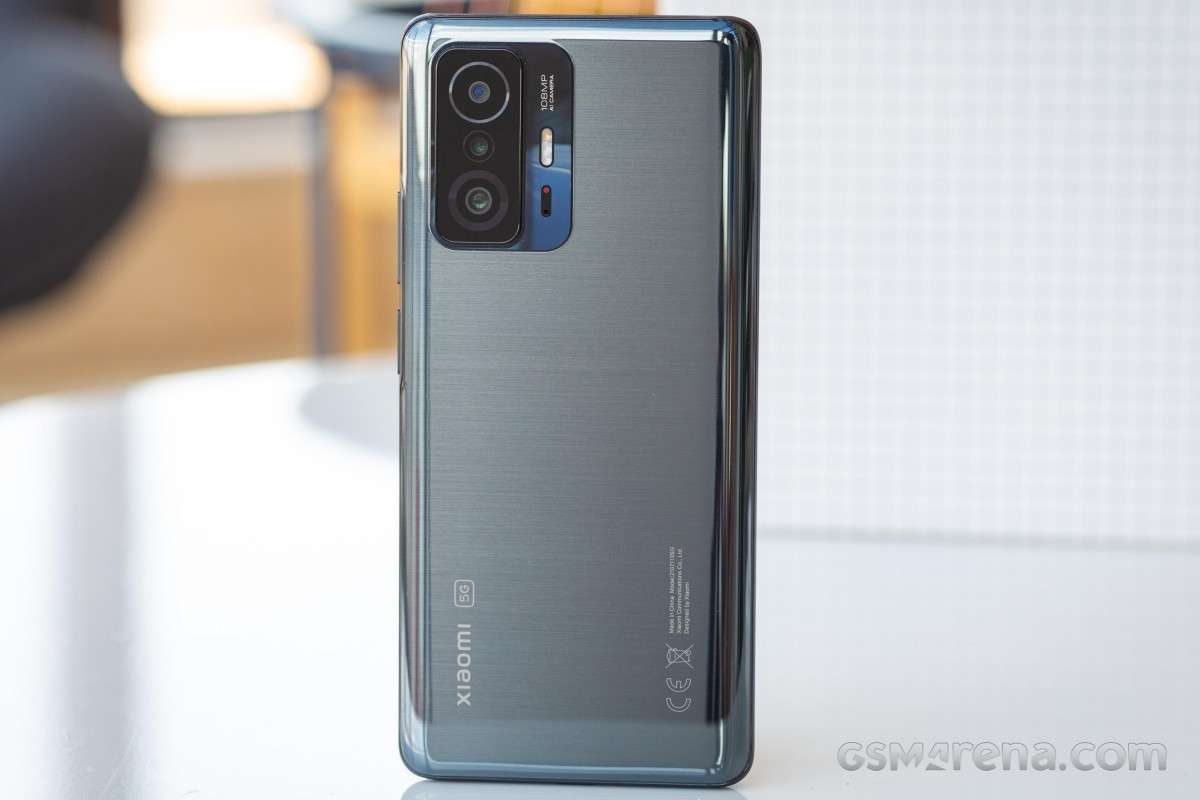 Yayyyyyyyyyyyy!!!!
Okay, cut the cr*p, now what do we really have here?
Well, lots of good specs that might make you want to have a closer look and consider buying any one of these phones if the top-level flagship Mi 11 series were and are still very expensive for you to afford.
And to begin with, let's start with the 11T Pro.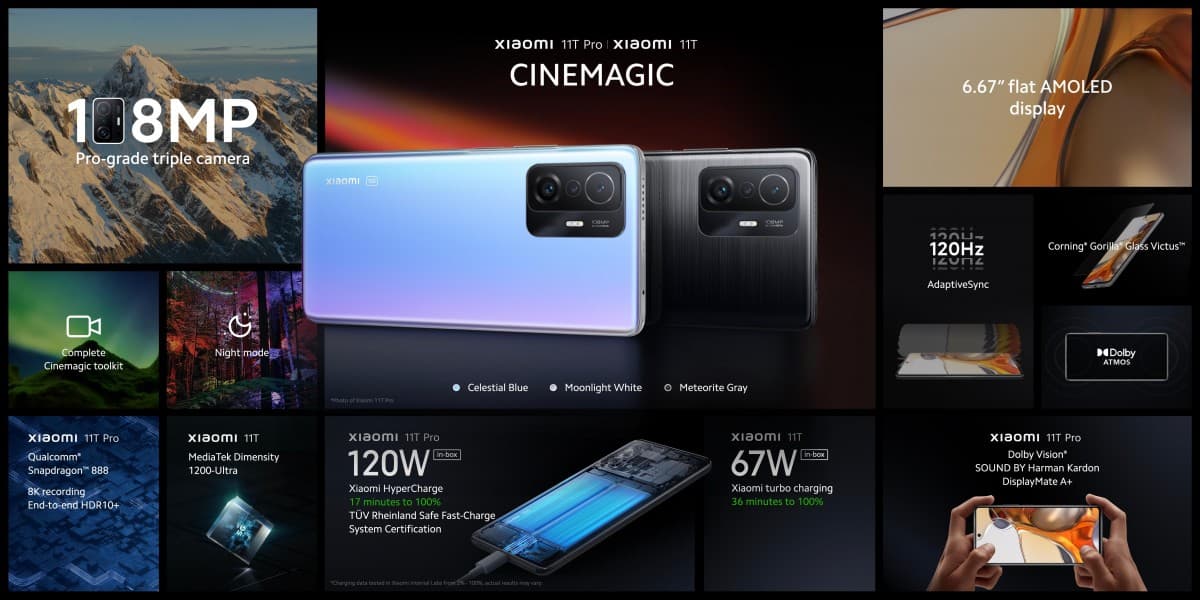 Xiaomi 11T Pro
Okay, so if you haven't noticed, the first but mostly non-obvious thing that has changed on the new 11T smartphones this year from their predecessors, and which will in turn trickle down to other coming Xiaomi phones in the future is the omission of the "Mi" branding, yes, Xiaomi recently announced that they'll be removing the "Mi" branding from their phones from now henceforth, to give a more streamlined and unified naming system to their smartphones.
But, that's not why we're here today, now let's talk about the Xiaomi 11T Pro smartphone.
First and foremost, this smartphone is in no way a successor to the Mi 11 series that launched earlier this year, cause those ones are entirely in a different league of their own, and they come with even higher price tags than the 11T series to justify that, so, that leaves us with the Mi 10T series from last year.
So to start with, the new 11T Pro comes clad with a flat 6.67 Inches 10 bit AMOLED display, complete with Dolby Vision, a 120Hz high refresh rate, HDR10+ support, Full HD+ screen resolution, with the brightness level peaking at 1000 nits.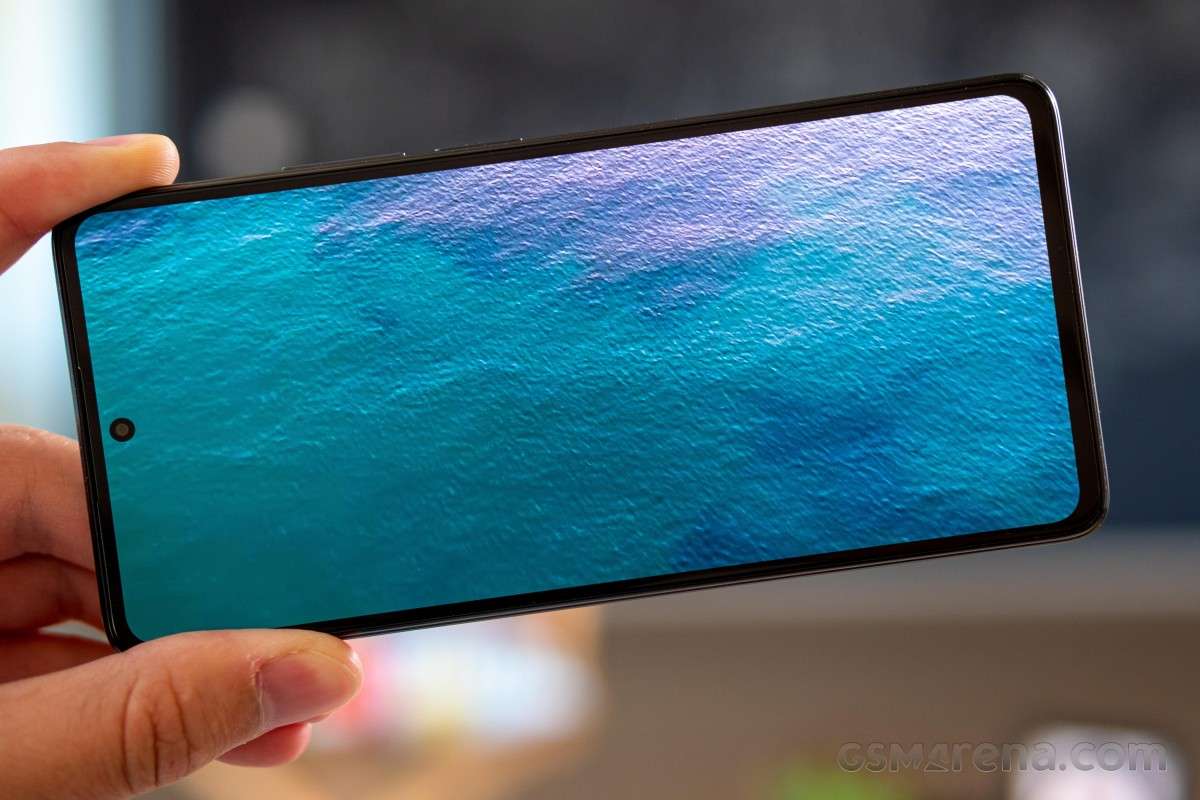 Xiaomi took no hesitation to brag that this is currently the best flat AMOLED display that you can get on any smartphone right now, just the same way they did last year for the Mi 10T Pro, having the best LCD display.
In comparison, the Mi 10T Pro came in the same screen size as the 11T Pro but uses an LCD panel, and the screen refresh rate could get up to 144Hz when needed.
So, in terms of display quality, the new 11T Pro is a big forward leap from the Mi 10T Pro, and don't forget that it is protected using Corning Gorilla Glass Victus.
Now getting the cameras, well, the Xiaomi 11T Pro uses a 108MP Samsung HM2 camera sensor for its main camera but has dropped the OIS feature that was found on the Mi 10T Pro.
The ultrawide camera also got a downgrade from what we had on the Mi 10T Pro as it now uses a lower resolution 8MP Sony IMX355 sensor sitting behind an f/2.2 lens, while the third camera which is a macro sensor remains the same at 5MP, and Xiaomi still remains one of the few phone manufacturers that use an autofocus feature on its macro cameras.
And like before, the main camera on this thing can shoot 8K resolution videos at up to 30fps (frames per second), 4K and 1080p at both 30 and 60fps, and it can do 1080p resolution slow-motion videos at 30, 60, 120, 240, and 960fps.
So, yet again, there are no telephoto or periscope telephoto camera sensors on this thing for those who are expecting to see such, and coming to the front-facing, the phone is fitted with a 16MP 1/3.06″ OmniVision OV16A1 sensor sitting behind an f/2.4 aperture lens with fixed focus as expected.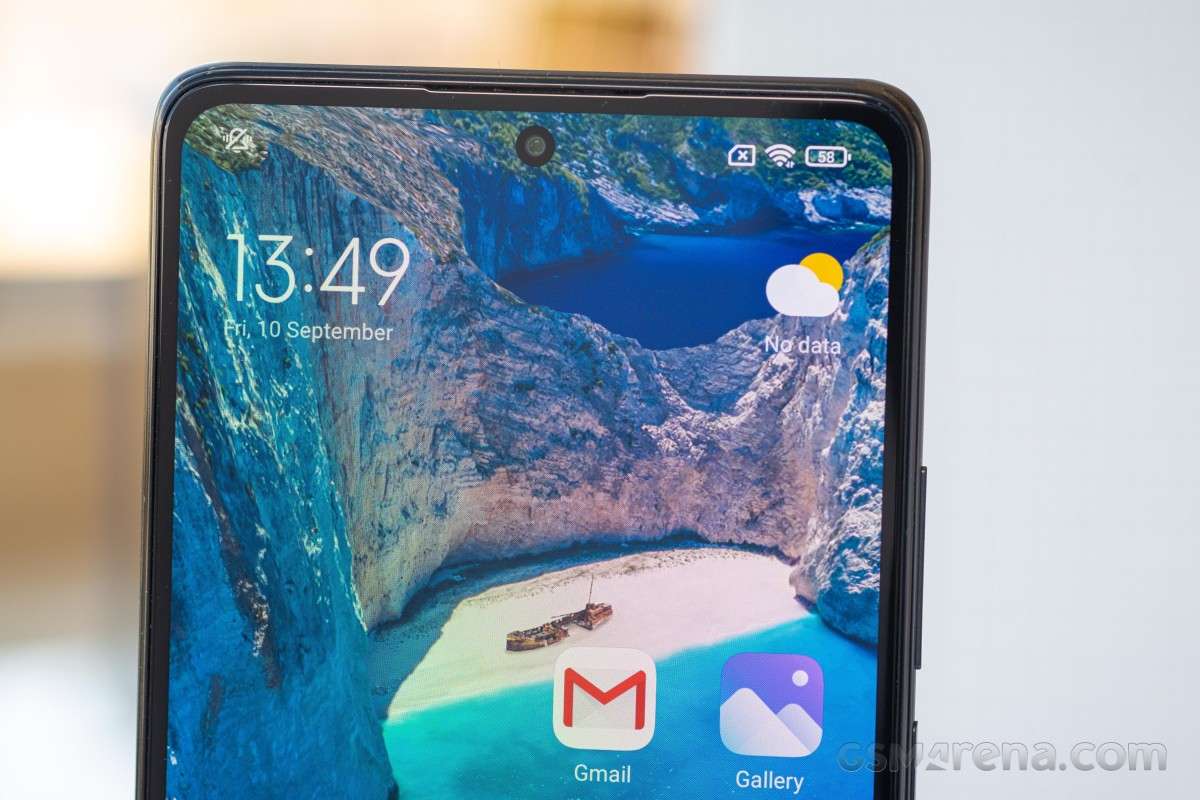 So, in terms of the camera specs and how they compare to those on the Mi 10T Pro, I don't really see an upgrade when looking at the specs on paper, maybe the difference will be manifested in real-life when taking pictures.
And coming to the performance, the new Xiaomi 11T Pro phone comes armed with Qualcomm's Snapdragon 888 mobile flagship chipset, you get up to 12GB of RAM on the maxed-out variant while keeping 8GB for the base configuration model, and storage starts at 128GB, and goes all the way up to 256GB.
You get all the nitty-gritty that justifies a flagship smartphone like the stereo speakers, and like Xiaomi has been doing for most of its smartphones recently, this one too is tuned by Harman Kardon, and despite the phone having an AMOLED display, the fingerprint reader is still located on the side of the phone, but that shouldn't be a deal-breaker for anyone planning on getting this phone, or, is it?.
Xiaomi has kept the 5000mAh battery from the Mi 10T Pro from last year, but this time, they have bumped up the charging speed from 33W to 120W on the 11T Pro, which given by Xiaomi's claims, can net you a complete charge from 0% in just 17 min.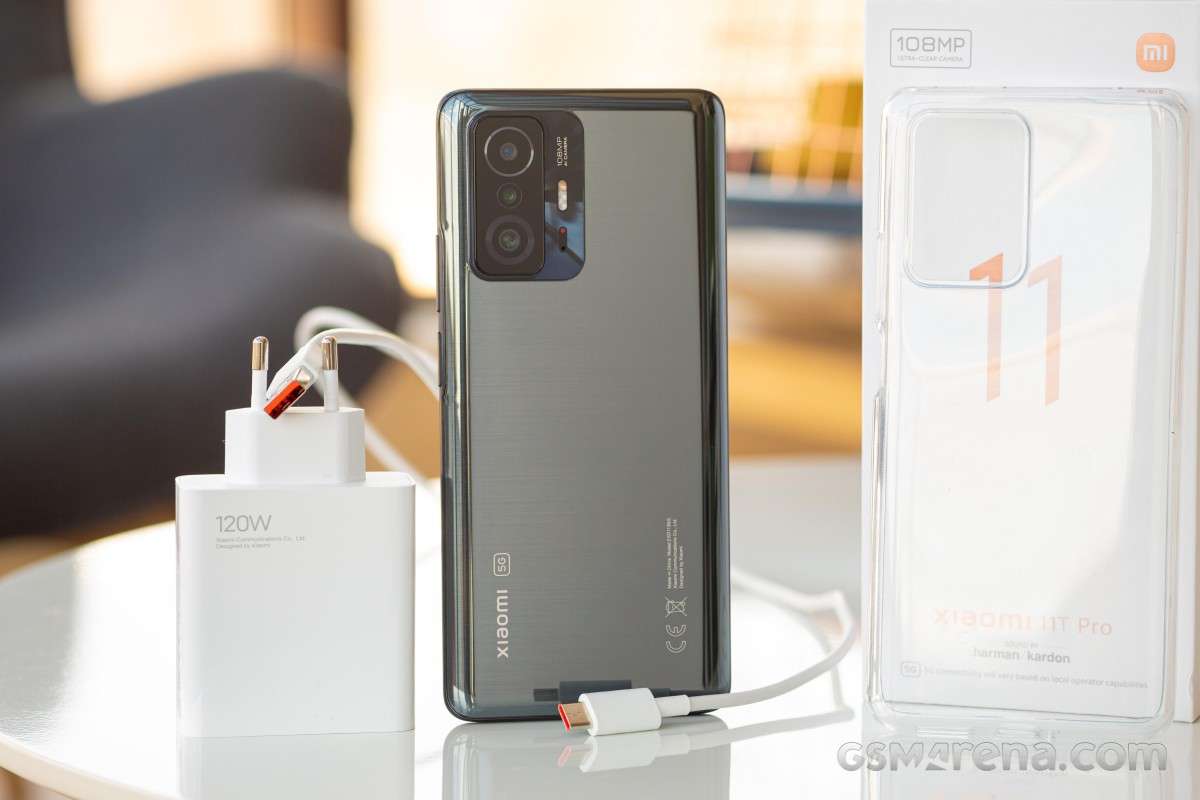 Don't forget that you also get an IP53 rating for protection against water splashes, which was missing on the Mi 10T Pro.
The hot take
So, should you upgrade to the new Xioami 11T Pro phone if you already have the Mi 10T Pro? Well, personally, I see no need to upgrade if you already have the Mi 10T Pro, though the specs are very tempting, like the new super responsive AMOLED display, the newer and faster chipset, and the superfast battery charging speed.
But still, I think that the Xiaomi Mi 10T Pro still remains a very solid smartphone even by today's standards, and if I had one, I wouldn't think of upgrading to the 11T Pro.
But, if you own say something like Mi 9T Pro from last two years ago, then there is no best time to make an upgrade than right now.
Now let's take about the lesser child in the family;
The Xiaomi 11T
Just as the vanilla Xiaomi Mi 10T was basically no different from its Pro version, so also, the vanilla Xiaomi 11T is basically no different too from the 11T Pro aside from it being powered by a Mediatek Dimensity 1200 chipset, and the downgraded 67W still superfast charging speed that can do 0 to 100% in 36 min.
You still get the same 6.67 Inches goodness of the best flat AMOLED display on any smartphone as claimed by Xiaomi with a sheet of Corning Gorilla Glass Victus on top of it, same 108MP triple camera setup, same 5000mAh battery with the downgraded charging speed, stereo speakers, Android 11 out of the box, and lest I forget, Xiaomi also promised that the 11T series will be getting up to four years of software version updates and support, thereby matching what Samsung is offering on its smartphones,(both mid-range and flagship).
So,
The hot take
Like I did for the 11T Pro, I don't think anybody who owns the Mi 10T should be upgrading to the 11T, but still, the specs are tempting, but for someone who owns a Mi 9T, then this phone is definitely worth upgrading to;
Cause you're getting a bigger, better, and faster display with an overall better phone build quality with an IP53 rating. You get a newer and faster chipset as opposed to the Snapdragon 730G that was used on the Mi 9T, you get larger, better, and newer camera sensors, stereo speakers which are lacking on the Mi 9T, a 1000mAh larger battery capacity with even faster-charging speed, and the latest version of Android and the latest version of Xiaomi's MIUI.
And that wraps it up for the new Xiaomi 11T and 11T Pro mobile smartphones that were announced a few days ago by the Chinese company. Kindly tell us what you like and don't like about these phones by leaving a comment for us in the comments section below, and if you enjoyed reading this article, kindly give it a thumbs up by sharing it, and as always, I'll see y'all tomorrow, #peace out.
Read Also
• 10+ recommended and best Xiaomi smartphones you can easily buy right now in Nigeria in 2021.