Ever heard of Mp3Juice, it's a free music download website that sources its music files from YouTube videos, and when it finds them, it converts these videos to their various Mp3 formats, so you can download and listen to them offline like every other Mp3 audio file on your device.
So, the takeaway here is that you're basically converting YouTube videos to mp3 files, and downloading them to your device, so you can listen to them anytime you want.
Sounds cool right?

Visit now: Mp3Juice official web page.
Now, take note that there are numerous clones of this website littered all over the internet, so, you should only follow the link I gave above to access the original one.
When you search for music on the website, it will take some seconds to fetch the results, and when it does, from the result page, you'll see the source of the music which is apparently YouTube, you will also see the YouTube channel name from where the music was gotten from, so, if you only want to download the original and official version of a song, you can do that by only clicking on the result that shows the official YouTube channel name of the song artist.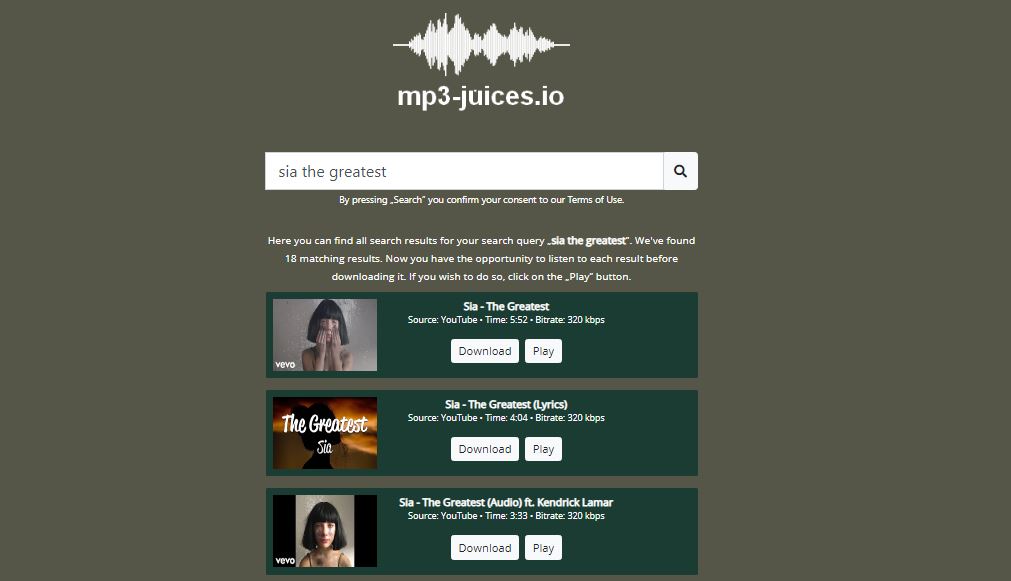 Alternatively, you can even copy a YouTube video URL and paste it on the site's search bar if you want to be more specific, and here's how to download your favorite songs from the Mp3juice website.
Read also
How to download songs from the Mp3juice site
Kindly go the Mp3juice official website by following the link above.
When in there, type in the name of the song you want to download in the search bar provided for you on the site's homepage.
Or better still, if you have a specific video in mind that you want to convert to its mp3 form, simply go to YouTube and copy the video's URL, then come back to the website and paste it on the search bar.
In no time, the results from your search will be presented to you, listing the song you searched for, alongside other related results from various YouTube channels.
You can go ahead and preview any one of them by tapping or pressing the "Play" button, this plays the YouTube video of the song itself.
But, if you want to have any of those songs downloaded to your device in its Mp3 format, simply hit the "Download" button next to it, and follow the prompts.
So, that basically wraps it up about the Mp3juice free music download website, and how to download your favorite songs from it. Kindly give this post a thumbs by sharing it if you enjoyed reading it, and as always, I'll see y'all tomorrow, #peace out.
Read Also: Musicpleer, one of the world's most-recognized free music download platform.