I bet you never saw this one coming, but the thing is, come May 26th, and Xiaomi will be adding an "Ultra" model to the already badass and largely successful Redmi Note 10 series, the Xiaomi Redmi Note 10 Ultra.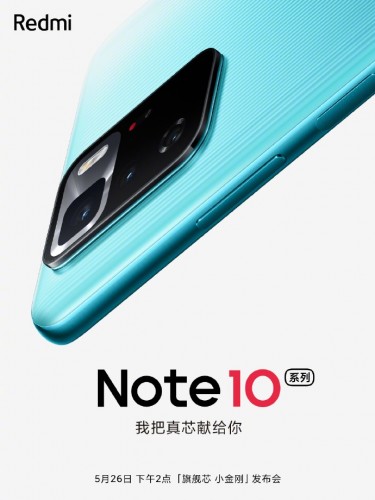 The "Ultra" word there already hints that this phone will possess even more badass specs than the Redmi Note 10 Pro (Max) already did, largely in the chipset and camera department, and rumors have already revealed that the phone will come equipped with a Mediatek Dimensity 1100 SoC running inside of it, which will be paired to 6 – 8 Gigabytes of RAM, on top of a 128 – 256 Gigabytes of fast UFS 3.1 internal storage capacity.
The phone will ship with a smaller screen size than the Redmi Note 10 Pro before it, and this one is said to come in at 6.53 inches OLED which is a good thing if you asked me, and the resolution is said to come in at 1080p (Full HD+), and since the Redmi Note Pro already flexes a 120Hz screen refresh rate, then it is either the Ultra model sticks to those numbers, or it takes it up a notch, there's no way it's dropping the screen refresh rate lower than that.
Oh, and lest I forget, the design.
In one way, the phone looks like it is different from the Redmi Note 10 series, and in other ways, it still manages to look like them.
Xiaomi is saying that the back of the phone is 3D textured to provide a nice grip, and at the same time, give off a flagship feeling. We don't know what that means, but we'll definitely do when the phone launches.
And while taking a second look at the back of the phone, you'll notice that there are just three cameras on there. Personally, I don't know what these cameras sensors or megapixels counts are, but if Xiaomi is omitting one sensor from the Redmi Note 10 Pro, then it should be for a good reason, and with that, I'm guessing it will consist of;
The same 108MP sensor that we saw on the Redmi Note 10 Pro, as the main sensor.
Maybe an 8MP telephoto sensor, as a jab at the Samsung Galaxy A72 same 8MP telephoto sensor.
And lastly, an 8 or 12MP ultrawide sensor.
The phone has been reported to ship with a 5000mAh battery in it, and it will be able to charge at up to 33W speeds, it will definitely ship with Android 11 out of the box, stereo speakers are no longer a thing that is reserved for flagships anymore, so, we wouldn't be surprised if it ships with it, and, that is roughly everything that we know so far, concerning the brimming Xiaomi Redmi Note 10 Ultra smartphone.
Kindly let us know what you think about this phone in the comments section below, and if you enjoyed reading this article, consider giving it a thumbs up by sharing it, and as always, I'll see you all tomorrow, #Peace Out.
---
Read Also
▪ 10+ recommended and best Xiaomi phones you can buy right now in Nigeria.
▪ How to set up & make use of a customized virtual hole-punch-inspired notification LED on the Xiaomi Redmi Note 10 phones.