If you enjoy watching Indian movies, and specifically enjoyed movies in the Pakistani language, well, it's unfortunate that currently, there are not a lot of them available on Netflix right now, but we'll keep updating this page on regular basis to include new movies as they're released. But for now, here are the few Pakistani movies on Netflix that you can find right now ranked from the best to the worst.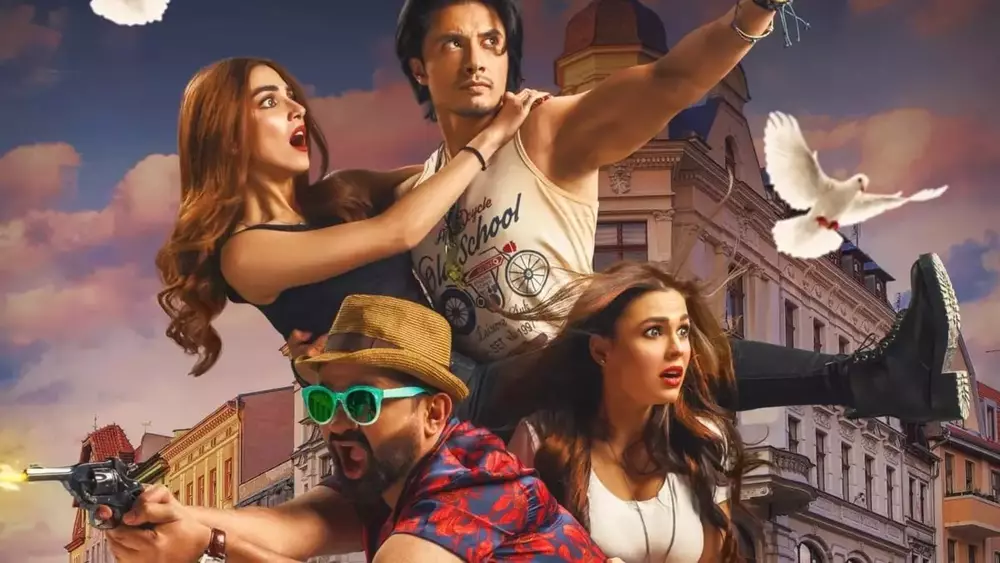 …But before then, kindly take note that by the time you'll be reading this article & in Netflix's usual tradition, some of the movies listed here might not be available in your location, or even worse, completely removed from the platform, so just in case you couldn't find some of them on your Netflix's app.
And that being said, now let's begin. #enjoy.
3 Best Pakistani Movies on Netflix to Watch in 2023
As promised, here are a few Pakistani movies on Netflix that you can watch right now.
| MOVIES | RELEASED | DURATION | RATING |
| --- | --- | --- | --- |
| Teefa in Trouble | 2018 | 2h 35m | 7.0/10 (3.9K) |
| Sitara: Let Girls Dream | 2019 | 15m | 7.2/10 (704) |
| Pinky Memsaab | 2018 | 2h 4m | 6.3/10 (557) |
More on Netflix
Teefa in Trouble
"Teefa in Trouble" is a 2018 Pakistani action-comedy film directed by Ahsan Rahim. The film stars Ali Zafar and Maya Ali in the lead roles, with supporting performances by Javed Sheikh, Faysal Qureshi, and Rashid Farooqui.
The movie follows the story of Teefa, a rough-around-the-edges enforcer who is hired by a wealthy businessman to bring his daughter, Anya, back to Pakistan from Poland. However, things don't go as planned, and Teefa finds himself embroiled in a series of comical situations as he tries to complete his mission.
Along the way, Teefa and Anya develop a mutual respect for each other and fall in love, but their newfound romance is threatened by a number of obstacles, including Teefa's criminal past and the disapproval of Anya's father. The film is a fast-paced, action-packed comedy with plenty of laughs and heart.
"Teefa in Trouble" was a commercial and critical success upon its release, becoming one of the highest-grossing Pakistani films of all time. It was praised for its humor, performances, and direction, and it was widely considered to be one of the best Pakistani films of the year. The film's soundtrack was also popular and featured several hit songs.
Sitara: Let Girls Dream
"Sitara: Let Girls Dream" is a 2019 animated film directed by Vishal Bhardwaj. It is a story about a young girl named Pari, who dreams of becoming a pilot, but her dreams are thwarted by societal pressure and expectations. The film is set in Lahore, Pakistan, and is based on a true story.
The film follows Pari as she grows up and becomes a young woman, determined to achieve her dreams despite the challenges she faces. She is supported by her loving family, but must also confront the reality of gender inequality and the restrictions placed on women in her community. The film is a touching, emotional story that highlights the importance of women's education and the pursuit of one's passions.
"Sitara: Let Girls Dream" is an animated film that explores themes of gender inequality and the power of dreams. It is a poignant and beautifully-made film that is sure to move and inspire audiences of all ages. The film has received positive reviews for its powerful message and heartfelt storytelling, and it is widely considered to be one of the best-animated films of 2019.
Pinky Memsaab
"Pinky Memsaab" is a 2018 Pakistani drama film directed by Shazia Ali Khan. The film stars Hajira Yamin, Kiran Malik, Adnan Jaffar, Sunny Hinduja, and Shameen Khan in lead roles.
The movie tells the story of Pinky, a young woman from India who travels to Dubai as a maid for a wealthy Emirati family. Pinky becomes close with the family's daughter, Shaista, and her husband, Kabir, who are both struggling with their own personal issues. Pinky and Shaista form a bond as they both seek to escape the constraints of their lives, but their relationship is tested by the cultural and social differences between them.
"Pinky Memsaab" is a poignant and thought-provoking film that explores themes of class, gender, and cultural identity. The film was well-received by audiences and critics, who praised its strong performances, tight storytelling, and insightful commentary on contemporary society. The film was a commercial success and has become a landmark in Pakistani cinema for its unique blend of social commentary and heartfelt drama.
---
And that wraps it up for the only three Pakistani movies on Netflix today. Give this post a thumbs up by sharing it if you find it helpful, and as always, I'll see y'all tomorrow, #peace out.