You've watched charts, planes, and spaceships fly under the crash game genre. Now, prepare to place your money on the back of a superhero, Magnify Man. He can fly at the speed of sound while using his superpowers to magnify your bet as he ascends. All you have to do is remember to cash out before he flies away at Mach speed, taking your cash with him.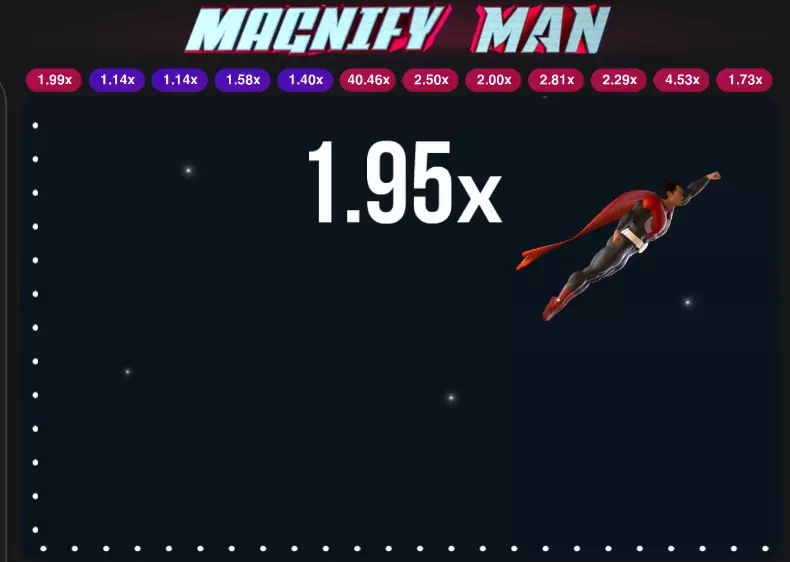 Magnify Man is available at crypto casinos partnered with Future Gaming Solutions (Fugaso). One of the best ones you should try is Bitcasino.io where you can play using cryptocurrencies. Check it out on your next gaming session and win real cash prizes in this simple game.
What is the Magnify Man casino game (Fugaso)?
Magnify Man is a crash game typically found in the slot game category of most online casinos. It features a 3D-animated action of the titular superhero where he runs and then takes off on a loop. The only difference between each spin is how long can the camera keep up with his movement before he leaves the frame at super speed. 
How to play and win Magnify Man?
Magnify Man is a game of intuition. Place a bet and watch its value multiply while the camera follows the superhero's ascension to the sky. The higher he reaches, the bigger your potential payout becomes. However, you lose your bet once he leaves the screen and this can happen at any time starting at 1.5x.
When he reaches Mach speed is determined by a random number generator (RNG). You lose your bet once that happens but without knowing when it's up to your intuition to decide at which point you should cash out. Alternatively, you may use a system where you only cash out at a fixed rate. Many crash players believe 3x is the safest time to do so because it can recover your losses and reaching this high is frequent enough than higher rates. 
What makes this game exciting is that crash games don't have a limit. If you want to push your luck, then you can be rewarded with the highest possible payout in an online casino game. It's possible for the camera to keep up with Magnify Man indefinitely or at least until you reach the 10,000x max win. You can set your bet between 0.2 mBTC minimum to 100 mBTC maximum, potentially netting you between 2000 mBTC and 1,000,000 mBTC max win respectively.
Other games you should try if you liked Magnify Man
Magnify Man is the latest title of the crash genre and there are other titles you should try if you liked this one. Among the most popular is Aviator from Spribe because it has more functions to tinker with, including a second betting interface. Thus, you can cash out on one bet when it's safest and continue with the other for a bigger payout. Crash X from Turbo Games has the same functionalities albeit featuring a more cosmic theme. These are only some examples of games like Magnify Man and all of them are worth checking out.