Does Facebook allow video downloading?
The answer is yes. Facebook even prepared a feature to do that. You can put any video inside the list of Saved Videos. However, there are several drawbacks.
First, you still have to open Facebook in order to access videos. Remember that it's not a feature to actually download videos; it's merely for "Saving." In order to enjoy the videos again, you have to open Facebook and re-open the list. It's annoying, we know.
Second, the videos will disappear if the creators delete them. Since the videos were not downloaded, they're still connected to the particular creators. When they delete the videos, you no longer have the ability to see them again. And yes, it's really bothersome. So, instead of using this feature, we highly recommend you download Facebook videos to your phone, which can be done by using third-party tools. We'll explain it later on.
Best Facebook Video Downloader App for Android
Now, to truly download videos from Facebook, it takes a bit of effort to find the proper apps or tools to do so. But don't worry, we'll walk you through it.
The apps you need to use are called video downloaders. Mostly they come as apps, but sometimes you can also use online portals as well. Regarding regulation, Facebook doesn't really have restrictions about this, so there is no need to worry. However, another question arises, which is the best Facebook video downloader for Android? We bring you one app called Snaptube.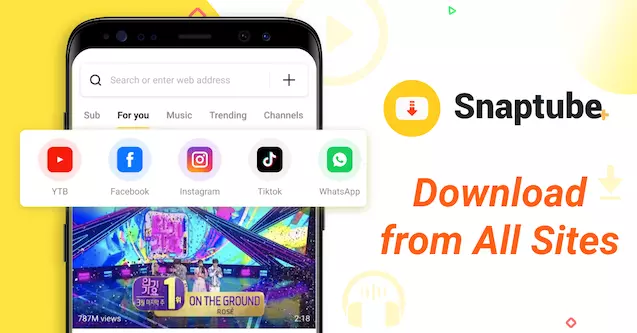 Snaptube is one of the best video and music downloaders that can be used to download from various social media platforms, including Facebook. It's simple, easy to understand, and will do the job just fine. As long as you can find solutions to how to download videos from Facebook to your phone, you'll always have the ability to save them anytime you want.
People do love Snaptube for its features, and yes, it's not about video downloading only. There are so many things to grasp from this app. Users are free to enjoy the available features, such as:
Video downloading from any site (not limited to Facebook).
Easy operation, so nothing won't be overwhelmed when using it.
Snaptube does not require registration or subscription to use its full functionality.
Free MP3 and MP3 download in high quality.
And then, there are also features like a built-in player, dark mode, battery saver, etc.
If you want to do Facebook download for Android, this app is definitely recommended. And about the price, you don't have to worry much about it. Everything here is free, and you can easily download any videos from any site.
How to download Facebook videos on Android using Snaptube
Snaptube is easy to use and with a very clear interface. Here are the main steps to help you better understand how does Snaptube works to download Facebook videos on Android.
Download and install the Snaptube app from its official website.
Open the app and paste the Facebook video link into its search box.
Hit the search button and Snaptube will open the Facebook website with the target file and a download button. You can preview the video as usual.
To download videos from Facebook to your phone, just click the download button.
From the pop-up window, select the format and quality to save the video.
The downloaded videos can be found in the Snaptube download library as well as the Gallery app on your phone.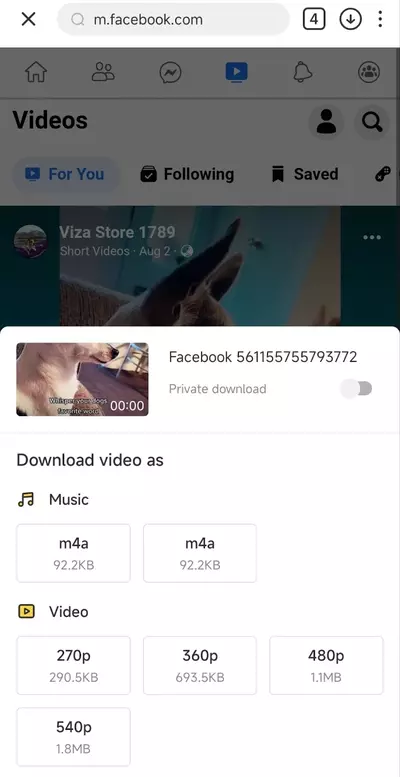 And that's what we can tell about Snaptube for today. As you can see, the app is definitely recommended for those of you who want to download videos from Facebook. But, you need to remember to always use Snaptube for entertainment purposes only.
FAQS
Snaptube can definitely be your best way to download Facebook videos on Android. But, if you still have any questions, hopefully, these answers will solve them:
What is the Snaptube app?
As mentioned above, Snaptube is a tool mostly used to download videos from Facebook, Instagram, and other popular social media platforms you might know about. You can even download videos from sites like Vimeo and DailyMotion, all without a charge.
With Snaptube, users are also able to choose any media format on various resolutions. So if you need 2K footage, simply pick the 2K option before the download process starts.
Is it safe to use?
Snaptube is definitely easy to use, and this Facebook video downloader app for Android is trusted by more than 30M+ people worldwide. No need to worry about viruses or malware; the app is clean.
After installing the app, there's no risk of this app stealing any data inside your device. You can always download videos without any problems.
Why can't I find It on the Play Store?
Although Snaptube is considered the best Facebook video downloader for Android, it's not included in Play Store. The main reason is that media downloading is something that Google doesn't agree with.
Thus, apps like Snaptube will be banned on PlayStore due to rules violations. However, you can still install the app by getting the apk from the official website. But, you need to allow the third-party app to install first.