The coming Samsung flagship phones for 2022 might be many months ahead of their official unveiling by the company, but, that doesn't stop the leaks from pouring in every now and then.
So, what do we have here today?
Well, something we can comfortably call the key specs of the Galaxy S22 smartphones, and this one is coming from the very well-known and reliable tipster, Ice Universe.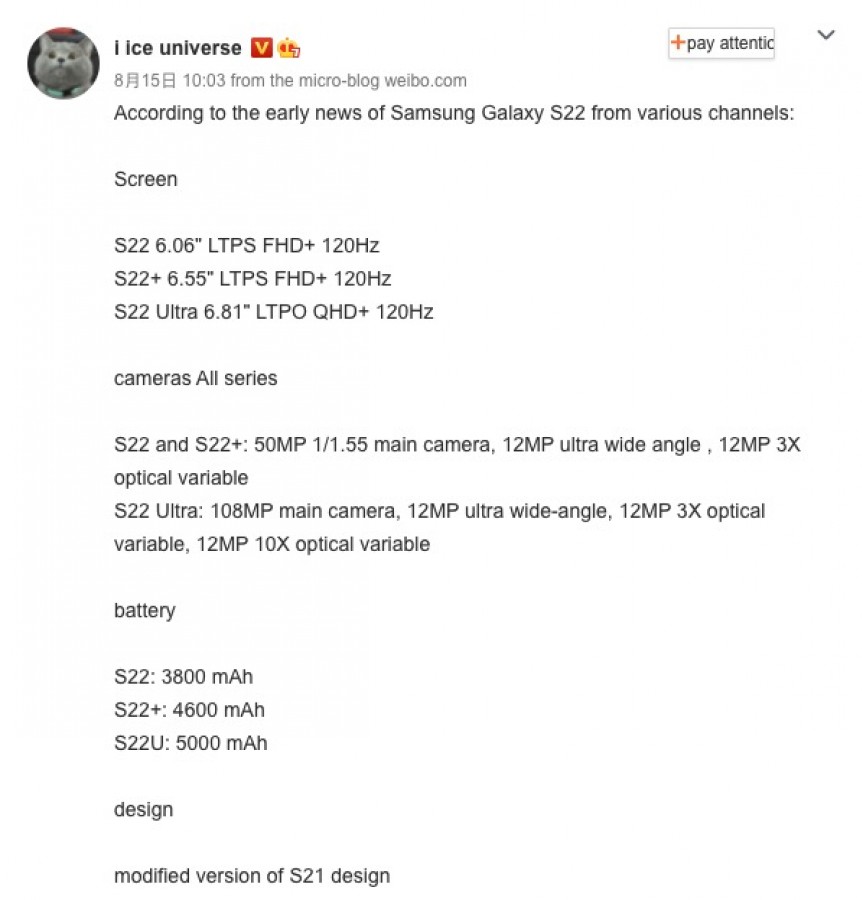 If everything shown in that snapshot above is taken to be true, then we should be seeing smaller display sizes on the Samsung Galaxy S22 and S22+ plus, with the Ultra model remaining largely unchanged from what we had on this year's Ultra model.
So, the vanilla S22 is expected to ship with a 6.06 Inches display, which approximately will make out to be 6.1 inches in diagonal, making the phone even more compact than the already compact Galaxy S21 model.
The S22 Plus display has been trimmed down to 6.55 inches as well, down from the massive, almost intimidating 6.7 inches panel that was used on the S21 Plus model this year, again, drawing it closer to the compact and comfortable-to-hold smartphone category.
With displays sizes such as these, I can only imagine that the sizes of the S22 and S22 Plus models fall within the 68 – 69 mm range in width for the vanilla S22, and around the 74 – 75 mm range in width for the Plus model. So, compact it is if you'd ask me.
And coming down the S22 Ultra, well, we're most likely gonna be getting a 6.81 inches panel, which in theory is nothing different from the 6.8 inches panel that we had on this year's S21 Ultra model.
Once again, the S22 Ultra is said to be the only model that will be equipped with Samsung's LTPO display, meaning that it will have automatic variable refresh rate calibration from 1Hz, up to 120Hz, and will be the only model to maintain the Quad HD+ (1440p) resolution.
The other two lesser models will stick to their regular 1080p+ panels with 120Hz refresh rates, but, with displays sizes such as these, I think using 1080p+ resolutions on them is perfectly okay, as 1440p resolutions will just be for bragging rights.
On the camera side of things, it is expected that Samsung will be making a couple of swaps across all models, so, starting with the S22 and S22 Plus models, we should be getting a 50MP main camera sensor this time, up from the 12MP sensors that they've used repeatedly countless times on former iterations of the Galaxy S phones.
The Ultrawide camera is largely gonna be unchanged as it maintains its 12MP resolution, while the telephoto camera has been upgraded to a new 12MP sensor that can zoom in 3x optically, so, that makes it a total of three camera sensors on the back of the Galaxy S22 and S22 Plus models.
While coming down the S22 Ultra, we should be getting a 108MP sensor, we don't know if this is going to be the exact same sensor that was used on the Galaxy S21 Ultra this year, the ultrawide camera still remains largely unchanged, sitting at 12MP resolution, while the telephoto and periscope telephoto have both been upgraded to 12MP sensors, up from 10MP that was used on the S21 Ultra this year.
While as for batteries, well, we're getting 3800mAh on the vanilla S22 vs 4000mAh that was on the S21 model this year, 4600mAh on the S22 Plus vs 4800mAh on the S21 Plus, while the S22 Ultra has its battery capacity untouched from what we have for this year.
The reduction in battery capacities for the vanilla and Plus models of the Galaxy S22 might be, who knows, maybe battery optimization effects from the new Snapdragon and Samsung Exynos chipsets, or for some other reasons best to them.
The design of the new phones are said to be modified versions of the Galaxy S21 series, which means they're gonna be largely unchanged, which is a good thing if I must say, and, that basically wraps it up for everything we've come to know so far concerning the upcoming Samsung Galaxy S22, S22 Plus, and S22 Ultra smartphones.
Kindly, tell us what you think about these specs by leaving a comment in the comments section below, and if you enjoyed reading this post, kindly give it a thumbs up by sharing it to encourage us, and as always, I'll see you all tomorrow, #peace out.
Read Also: How to set up & use a customized hole-punch-inspired notification LED on the Samsung Galaxy S21 phones.