Advertisements
From "Me Before You" to "Pride & Prejudice", "Romeo + Juliet", "Five Feet Apart", etc, here are the best drama and romance movies like "The Notebook" you should try to see today if you enjoyed that one.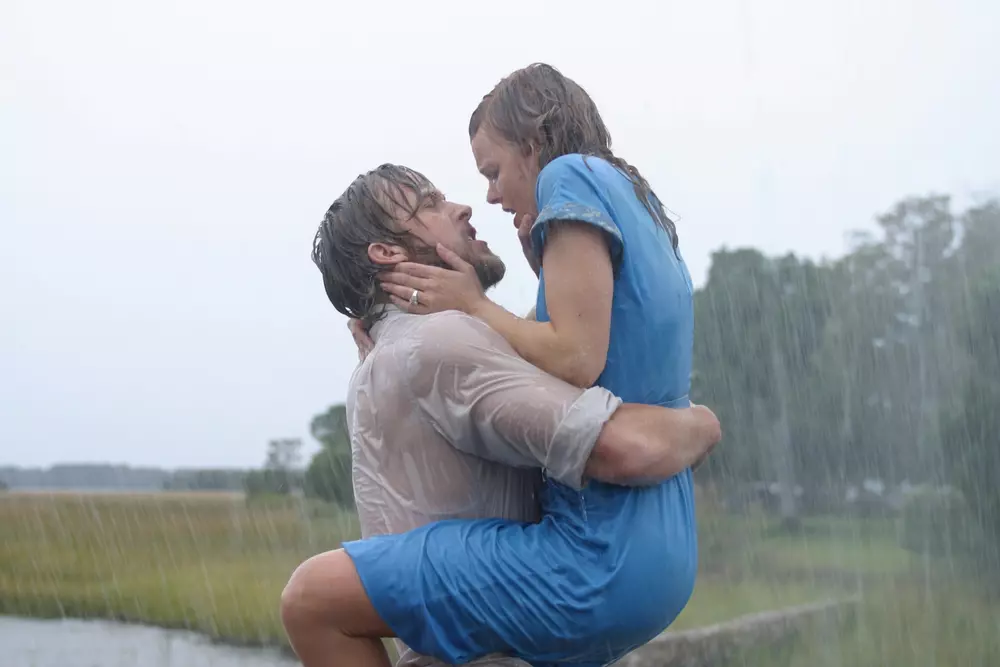 You're ready?
Sure, then let's begin, #enjoy!!!
35+ Romantic Drama Movies Like "The Notebook"
As requested, here are the best movies like "The Notebook" you can find today.
| MOVIES | RELEASED | DURATION | RATING |
| --- | --- | --- | --- |
| Eternal Sunshine of the Spotless Mind | 2004 | 1h 48m | 8.3 (1M) |
| Her | 2013 | 2h 06m | 8.0 (646K) |
| La La Land | 2016 | 2h 08m | 8.0 (632K) |
| The Theory of Everything | 2014 | 2h 3m | 7.7 (470K) |
| The Fault in Our Stars | 2014 | 2h 06m | 7.7 (392K) |
| About Time | 2013 | 2h 03m | 7.8 (371K) |
| Marriage Story | 2019 | 2h 17m | 7.9 (331K) |
| Pride & Prejudice | 2005 | 2h 09m | 7.8 (316K) |
| Moulin Rouge! | 2001 | 2h 07m | 7.6 (294K) |
| Me Before You | 2016 | 1h 46m | 7.4 (273K) |
| Romeo + Juliet | 1996 | 2h 00m | 6.8 (238K) |
| Shakespeare in Love | 1998 | 2h 03m | 7.1 (231K) |
| Little Women | 2019 | 2h 15m | 7.8 (228K) |
| Revolutionary Road | 2008 | 1h 59m | 7.3 (220K) |
| A Walk to Remember | 2002 | 1h 41m | 7.3 (217K) |
| P.S. I Love You | 2007 | 2h 06m | 7.0 (215K) |
| The Vow | 2012 | 1h 44m | 6.8 (201K) |
| One Day | 2011 | 1h 47m | 7.0 (160K) |
| Dear John | 2010 | 1h 48m | 6.3 (155K) |
| Remember Me | 2010 | 1h 53m | 7.1 (153K) |
| Never Let Me Go | 2010 | 1h 43m | 7.1 (150K) |
| Love, Rosie | 2014 | 1h 42m | 7.1 (150K) |
| Brooklyn | 2015 | 1h 57m | 7.5 (147K) |
| An Education | 2009 | 1h 40m | 7.3 (137K) |
| Australia | 2008 | 2h 45m | 6.6 (128K) |
| If I Stay | 2014 | 1h 47m | 6.7 (127K) |
| Safe Haven | 2013 | 1h 55m | 6.6 (114K) |
| The Lucky One | 2012 | 1h 41m | 6.4 (112K) |
| Five Feet Apart | 2019 | 1h 56m | 7.2 (77K) |
| The Best of Me | 2014 | 1h 58m | 6.6 (76K) |
| Far from the Madding Crowd | 2015 | 1h 59m | 7.1 (52K) |
| Purple Hearts | 2022 | 2h 02m | 6.7 (46K) |
| Everything, Everything | 2017 | 1h 36m | 6.3 (41K) |
| All the Bright Places | 2020 | 1h 47m | 6.6 (36K) |
| Midnight Sun | 2018 | 1h 31m | 6.6 (34K) |
| Through My Window | 2022 | 1h 56m | 5.5 (15K) |
| On Chesil Beach | 2017 | 1h 50m | 6.3 (12K) |
More
Eternal Sunshine of the Spotless Mind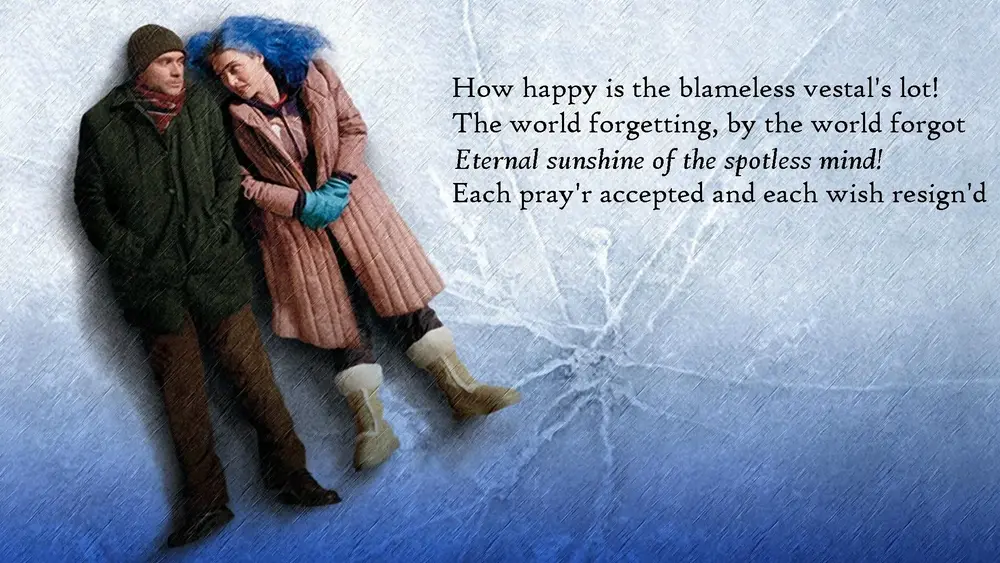 "Eternal Sunshine of the Spotless Mind" is a thought-provoking romantic drama film released in 2004, directed by Michel Gondry and written by Charlie Kaufman. The story revolves around Joel Barish (played by Jim Carrey) and Clementine Kruczynski (played by Kate Winslet), who meet on a train and form a tumultuous relationship.
The unique twist in this love story is the existence of a medical procedure that allows people to erase specific memories from their minds. After a painful breakup, Clementine decides to undergo this procedure to erase all her memories of Joel. Heartbroken and confused, Joel learns about Clementine's decision and decides to undergo the same procedure to erase her from his memories as well.
The majority of the film takes place within Joel's mind as he revisits his memories of Clementine while the erasure process is happening. As the procedure unfolds, Joel begins to rediscover the reasons why he fell in love with Clementine in the first place and realizes the depth of his feelings for her.
Through a series of beautifully crafted and often surreal scenes, the film explores themes of love, memory, and the complexities of human relationships. Ultimately, it raises questions about whether erasing painful memories is a solution to heartbreak or if the experience of love and loss is an integral part of the human condition.
"Eternal Sunshine of the Spotless Mind" is known for its inventive storytelling, strong performances, and its ability to blend science fiction elements with a deeply emotional and relatable love story, making it a memorable and thought-provoking cinematic experience.
Her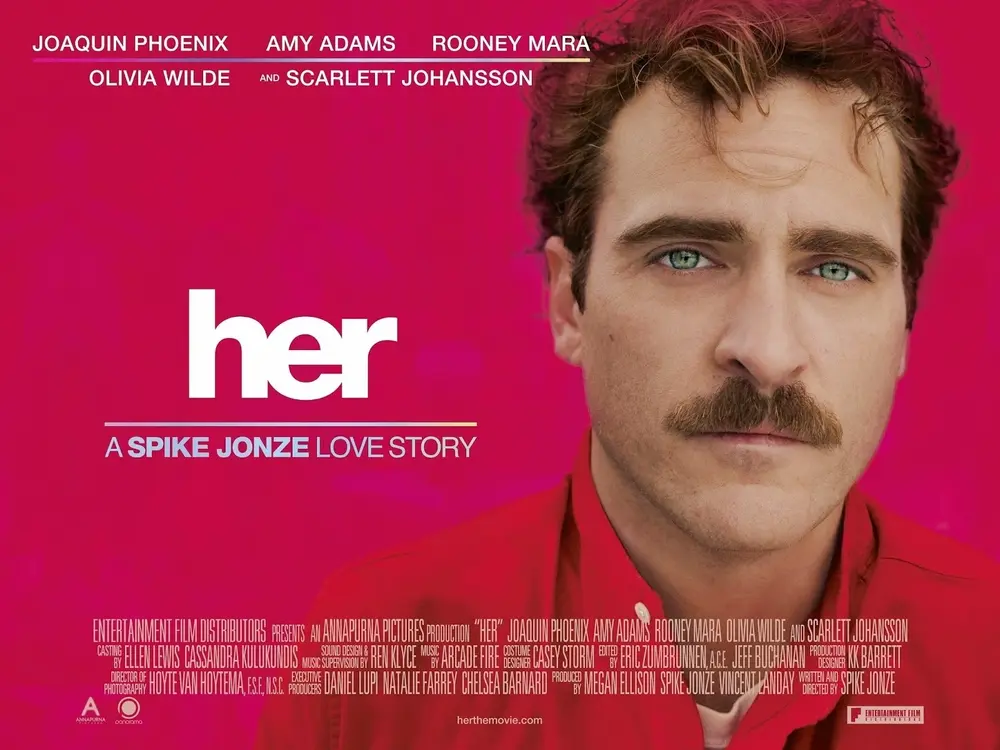 "Her" is a 2013 science-fiction romantic drama directed by Spike Jonze. The film tells the story of Theodore Twombly, a lonely man who forms a deep and unconventional connection with an advanced operating system with artificial intelligence named Samantha.
Their relationship evolves from companionship to love as they explore the complexities of human emotions and the boundaries of technology.
"Her" delves into themes of loneliness, love, and the impact of technology on human connections, offering a unique and touching exploration of the human experience in a digital age.
Romeo + Juliet
"Romeo + Juliet" is a 1996 adaptation of William Shakespeare's timeless tragedy, directed by Baz Luhrmann. Set in a modern-day, stylized Verona Beach, the film presents the classic story of two young lovers, Romeo Montague, and Juliet Capulet, whose families are locked in a bitter feud. Despite the intense rivalry and societal pressures, Romeo and Juliet fall deeply in love at first sight.
As their love affair unfolds, Romeo and Juliet's relationship faces numerous challenges, ultimately leading to a series of tragic events.
"Romeo + Juliet" is a visually stunning and emotionally charged interpretation of the timeless tale of love and conflict. It captures the essence of Shakespeare's play while making it accessible and relevant to a modern audience. The film is celebrated for its passionate performances, creative direction, and its ability to resonate with viewers through the enduring themes of love, fate, and the consequences of family strife.
The Fault in Our Stars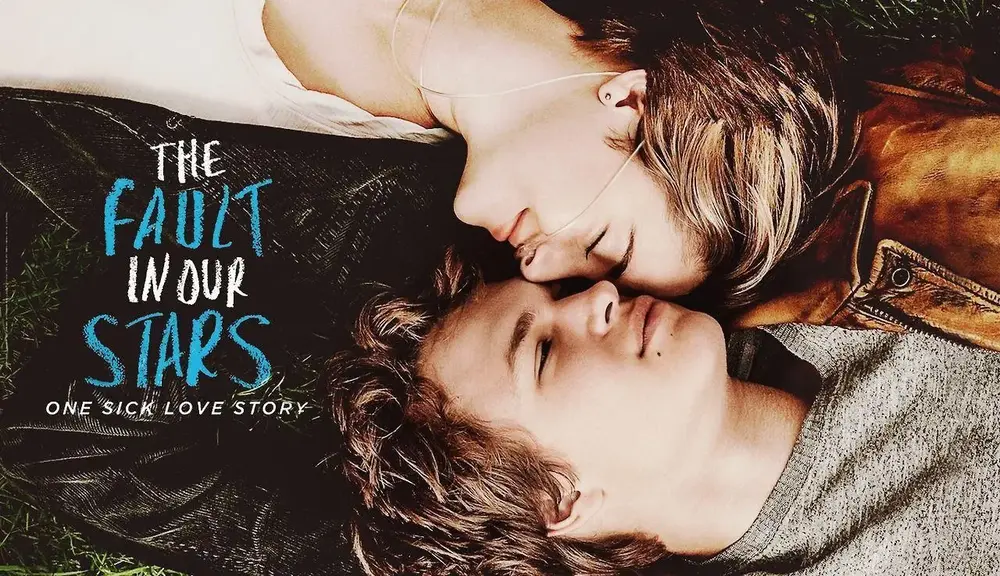 "The Fault in Our Stars" is a heartfelt 2014 romantic drama based on the novel by John Green. The story centers around Hazel Grace Lancaster, a teenage girl who is battling cancer, and Augustus Waters, a charming and witty young man who has also faced cancer. They meet at a support group and develop a deep and poignant connection.
The film follows Hazel and Gus as they navigate the complexities of life, love, and illness. Their relationship is marked by humor, vulnerability, and a shared desire to make the most of the time they have left. Together, they embark on a journey to meet Hazel's favorite author and confront the challenges of their illnesses.
While "The Fault in Our Stars" deals with the weighty themes of mortality and suffering, it is also a celebration of the resilience of the human spirit and the power of love to transcend adversity. The film's genuine and heartfelt portrayal of these young characters and their emotional journey has resonated with audiences, making it a moving and memorable cinematic experience.
Five Feet Apart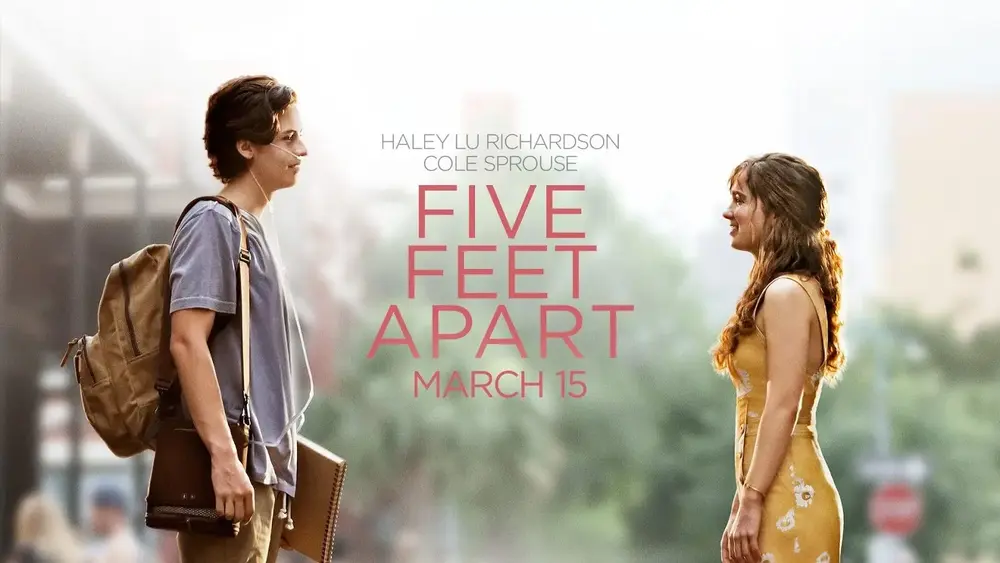 "Five Feet Apart" is a 2019 romantic drama that revolves around the lives of two teenagers, Stella Grant and Will Newman, who both have cystic fibrosis (CF), a life-threatening genetic disorder. The film explores their emotional journey as they form a deep connection while grappling with the realities of their condition.
Stella is a rule-abiding and organized young woman, while Will is more rebellious and carefree. Due to the risk of cross-infection between CF patients, they must maintain a minimum distance of six feet apart to avoid potentially fatal consequences. However, their strong attraction and desire to experience a more normal life lead them to bend this rule to five feet.
As Stella and Will's relationship deepens, they support each other in coping with their illness, pushing boundaries, and finding moments of joy amidst the challenges. The film beautifully captures their courage, resilience, and the profound impact of love on their lives.
"Five Feet Apart" is a touching portrayal of the difficulties faced by individuals with CF and the power of human connection to provide solace and hope in the face of adversity. It explores themes of love, friendship, and the importance of living life to the fullest, even in the shadow of a life-threatening illness.
---
And there you have it, folks, the top 35 best romantic drama movies like "The Notebook" you should watch today if you enjoyed "The Notebook".
Give this post a thumbs up by sharing it if you find it entertaining, and as always, I'll see y'all tomorrow, #peace out!!!