Instant messaging apps aren't what they once were some 10 or 15 years ago. We have come a long way since the initial days of MSN Messenger and AOL Instant Messenger.
Now, these apps have transformed the genre they're placed in, ranging from efficient texting apps like WhatsApp and Facebook Messenger to dual-purpose photo and video-sharing platforms, such as Snapchat and Telegram.
But the one problem most instant messengers face is that they aren't particularly in vogue with some of the older generations. Current surveys show that the US is hesitant to adopt any one instant messenger besides iMessage (exclusively available through Apple devices), which is especially true for new developments like the subject of our topic today; Snapchat.
What is Snapchat?
Snapchat is an instant messaging application available only on mobile platforms. What makes it incredibly popular for the younger generations—Millennials and Gen Z—that use the internet increasingly via their phones is its photo-sharing instant messaging.
So why is everyone crazy about Snapchat anyway?
Snapchat started as a photo-sharing app for students and focused primarily on a person-to-person model. That means that the photo could only be shared with one individual. What kicked it all up a notch was the fact that the photos you shared, were displayed for a limited number of seconds before being deleted permanently. And any attempts to save the photo would alter the sender of it.
Gradually, Snapchat had a cult following amongst the youth which used the platform to share nudes. This led to the rise of the term sexting and is still one of the app's primary use-cases amongst teens and young adults.
What Snapchat didn't foresee at the time was just how popular it would grow to become. The application has amassed a following comparable to Meta-owned Facebook in the US alone and continues to dominate the app charts on both iOS and Android devices.
With the introduction of "Stories" and "Filters," Snapchat opened the floodgates to the adoption of quirky and funny anime face filters that seemed to work flawlessly on human and animal faces.
Snapchat Stories became a popular way to set 24-hour updates regarding your day. You know this feature caught on because of how the rest of the players in the industry essentially copy-pasted this feature onto their platforms. LinkedIn too has a Stories feature that is straight out of the Snapchat headquarters.
What is "My Eyes Only"?
In the summer of 2016, Snapchat quietly updated its apps for Android and iOS to create a photo vault within the application itself. As we mentioned briefly earlier, Snapchat still retains its reputation of being a sexting platform and as such, felt the need to add a secure space for people to save their racy pictures taken through the app.
This folder was called "My Eyes Only" and users had the option to password protect it for an additional layer of safety. The app has gone through great lengths to ensure this feature remains privacy-first, that it has warned users in the past of not being able to recover any files added to the folder if they forget their passcode.
The developers of the application can't access any password-protected folders either which ensures complete secrecy around that folder and has brought much attention to parents around the world when they spot it on their teen's phone.
Cracking the Uncrackable
It's understandable why parents would be clamoring to find the best app to monitor Snapchat on the internet as the mere mention of the app suggests its sexual nature. To the delight of parents worldwide, you can find a dedicated Snapchat monitoring app if you look hard enough.
The question remains, however, how can one break into the "My Eyes Only" folder in the app if its development team suggests it is impossible?
Well, let's discuss the three best ways to do just that, starting with the most obvious method: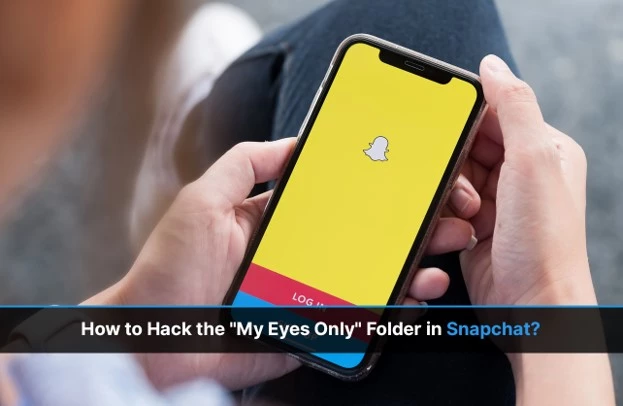 Method #1: Ask, and You Shall Receive
What most parents don't seem to realize about parenting is that you're well within your rights to ask for information you deem could be dangerous or inappropriate. This also depends on the relationship you have with your children, too, as kids who are neglected often or berated on their decisions tend to close up when matters about themselves are brought up for discussion.
But a healthy parent-child relationship can easily provide you access to the information you're seeking.
Whether that is knowledge of where they've been all weekend, if they're doing well in school or not, whether they're victims of bullying, and even access to Snapchat's hidden folder. Asking your child to share the details of their online use is a key aspect of digital citizenship as well, and parents are encouraged to house an open-minded approach to multiple topics.
Consequently, you can even break the barrier by informing children of the harms around sexting at an early age and how their private images can be used and saved by others that could be demeaning to their reputation. What goes on on the internet stays on the internet, after all. Approaching the situation from a friendlier mindset is vital.
Method #2: Espionage Tactics
Let's assume that the first method is out of the question for you. That can be due to several reasons, for instance, not having a healthy or friendly parent-child relationship, angsty children, or trust issues between the parent and child. The next method is on the shadier side and could come off as harsh and authoritative if found out by your children or your partner (assuming they aren't in on it).
For this, you would need to act and think like a spy. If your goal is to spy on Snapchat alone, you can do that easily by figuring out what password, passcode, or PIN combination your child uses for their device. Once you have that, the app is only a few swipes and clicks away. You can then gain access to their chat histories (if they have any saved in the app), and all the photos and videos are taken from the app as well.
Besides the threat of being found out by your child, this method also has a caveat. If the My Eyes Only folder is locked with a PIN, you would have to enlist the help of your best guessing abilities. Usually, children set up the same PIN for their phone and any further app folders, but if that's not the case, don't worry, try a combination of different PINs. The most common ones are:
1234
0000
0123
0987
9876
9999
9111
2468
Snapchat currently doesn't have a failsafe regarding the number of times you can enter incorrect PINs, but it does make you wait 1 minute before reentering after 5 failed attempts.
Method #3: Use a Spying App
This method is perhaps the easiest and most time-efficient of the three. You don't have to have long draining conversations with your rowdy teenager on a school night about their Snapchat password, and neither do you have to snoop around like a burglar. But it does come with a cost attached.
Take Xnspy for instance. Xnspy is perhaps the best app to spy on Snapchat, too, as its complete feature set provides all the tools for parents to view messages and activities on their child's phone.
Parents can circumvent this by using the Xnspy screen recording feature. This enables them to record all activity taking place on the device, and if and when your child accesses the folder, you can record it for later viewing. For Snapchat spying using Xnspy, more detail can be seen on this link.
Here's how you can get started with Xnspy:
Step 1: Purchase the Premium Plan
Step 2: Email and password credentials are sent to the account you used to sign in with Xnspy
Step 3: Install the app on the phone you want to monitor
Step 4: Wait as all the data is backed up onto Xnspy servers
Step 5: Once the backup completes, log in to the Xnspy dashboard
Step 6: Click on Instant Messengers in the left menu pane and select Snapchat
With Xnspy, parents can easily view Snapchat messages, photos, and videos. But its features and capabilities don't end with Snapchat either. Xnspy can monitor all popular social media and instant messaging apps, and record text messages, emails, and live calls. It can also geolocate children using their phones, and can also work as a covert mic to hear conversations using the target phone.
The app does all this remotely, too; all the device requires is an internet connection, and information will continue to update in your Xnspy dashboard periodically.
Here are a few things you must keep in mind before installing the Xnspy app:
Xnspy is not a free app, and you'll need to pay at least its entry price to start spying.
Spying on children older than the age of 18 can be illegal depending on the state or country you're residing in. Xnspy does not recommend spying on adults or children besides your own.
An active internet connection on the monitoring device is required, and the device that has Xnspy installed on it.
Xnspy requires anywhere from 24–48 hours to set up the first time. That is due to the data being uploaded to its secure servers.
While clear-cut solutions to monitoring the My Eyes Only Folder do not exist at present, there is a workaround for every situation. We suggest moving through the steps one after the other and seeing which works best for you. Good luck!