Advertisements
Do you enjoy watching wedding-themed romantic comedy movies like "Bridesmaids"? If yes, then today, we'll be showing you other films like it that share similar themes of romance, comedy, and a wedding, but before that, let's do a quick summary of the movie, shall we?
"Bridesmaids" is a 2011 comedy film directed by Paul Feig. The movie revolves around Annie Walker, a down-on-her-luck woman whose life takes a chaotic turn when she becomes the maid of honor for her best friend, Lillian's wedding.
As Annie navigates her role as the maid of honor, she finds herself in a series of hilarious and outrageous situations. She must contend with a group of mismatched and eccentric bridesmaids, each with their own quirks and personalities.
Annie's own personal life is in shambles, with failed relationships, financial struggles, and a lack of direction. She feels the pressure of comparing herself to Lillian's seemingly perfect new friend, Helen, who is also a bridesmaid. Annie's jealousy and insecurities lead to a rivalry with Helen as they compete for Lillian's attention and approval.
Throughout the film, Annie's journey involves mishaps and comedic mishaps, including a disastrous bridal shower, a wild bachelorette party, and a hilarious plane ride. Amidst the chaos, Annie learns valuable lessons about friendship, self-worth, and embracing her own unique qualities.
So, if you enjoyed seeing this movie, and looking for more films like it, then here are 50 more wedding comedy movies like "Bridesmaids".
#enjoy!!!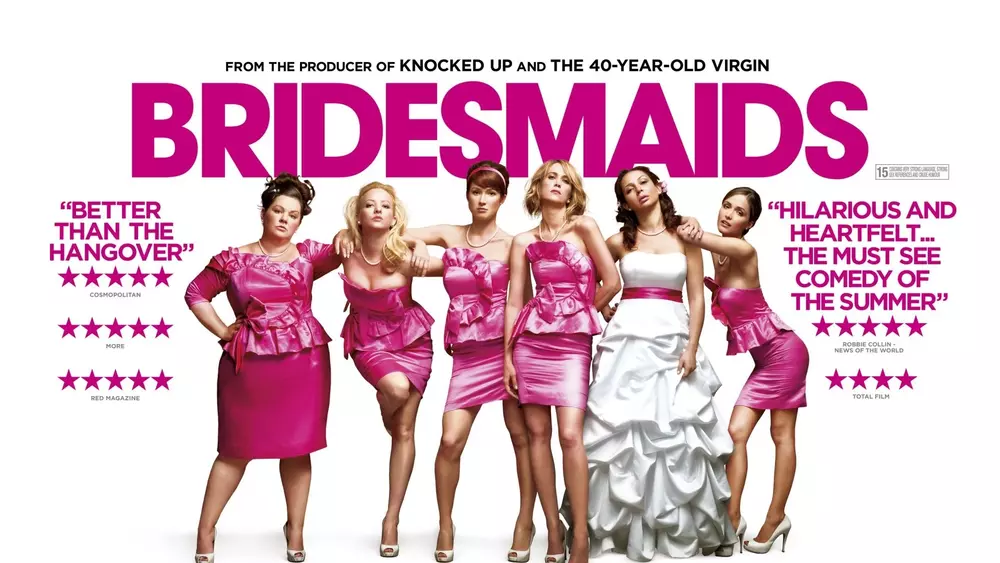 50 Wedding Comedy Movies Like "Bridesmaids"
From "Wedding Crashers" to "Mamma Mia!", "American Wedding", etc, here are the best movies like "Bridesmaids".
| MOVIES | RELEASED | DURATION | RATING |
| --- | --- | --- | --- |
| Wedding Crashers | 2005 | 1h 59m | 7.0 (365K) |
| Mamma Mia! | 2008 | 1h 48m | 6.5 (256K) |
| American Wedding | 2003 | 1h 36m | 6.3 (211K) |
| Crazy Rich Asians | 2018 | 2h 00m | 6.9 (180K) |
| Palm Springs | 2020 | 1h 30m | 7.4 (169K) |
| 27 Dresses | 2008 | 1h 51m | 6.1 (169K) |
| Four Weddings and a Funeral | 1994 | 1h 57m | 7.1 (158K) |
| The Wedding Singer | 1998 | 1h 37m | 6.9 (156K) |
| My Best Friend's Wedding | 1997 | 1h 45m | 6.3 (148K) |
| My Big Fat Greek Wedding | 2002 | 1h 35m | 6.6 (137K) |
| Bride Wars | 2009 | 1h 29m | 5.4 (111K) |
| Runaway Bride | 1999 | 1h 56m | 5.6 (101K) |
| Mamma Mia! Here We Go Again | 2018 | 1h 54m | 6.6 (100K) |
| The Five-Year Engagement | 2012 | 2h 4m | 6.2 (100K) |
| Mike and Dave Need Wedding Dates | 2016 | 1h 38m | 6.0 (92K) |
| The Wedding Planner | 2001 | 1h 43m | 5.3 (83K) |
| Father of the Bride | 1991 | 1h 45m | 6.5 (80K) |
| The Wedding Ringer | 2015 | 1h 41m | 6.6 (78K) |
| Made of Honor | 2008 | 1h 41m | 5.8 (74K) |
| The Wedding Date | 2005 | 1h 30m | 6.1 (55K) |
| The Big Wedding | 2013 | 1h 29m | 5.6 (51K) |
| Bachelorette | 2012 | 1h 27m | 5.3 (48K) |
| Guess Who | 2005 | 1h 45m | 5.9 (44K) |
| Muriel's Wedding | 1994 | 1h 46m | 7.2 (40K) |
| License to Wed | 2007 | 1h 31m | 5.2 (40K) |
| My Big Fat Greek Wedding 2 | 2016 | 1h 34m | 6.0 (32K) |
| Destination Wedding | 2018 | 1h 27m | 6.0 (31K) |
| Monsoon Wedding | 2001 | 1h 54m | 7.3 (26K) |
| The Accidental Husband | 2008 | 1h 30m | 5.5 (25K) |
| Bride & Prejudice | 2004 | 2h 2m | 6.2 (21K) |
| Love Wedding Repeat | 2020 | 1h 40m | 5.6 (21K) |
| The Bachelor | 1999 | 1h 41m | 5.0 (19K) |
| The Wedding Banquet | 1993 | 1h 46m | 7.6 (16K) |
| Wedding Daze | 2006 | 1h 30m | 5.6 (16K) |
| Plus One | 2019 | 1h 38m | 6.6 (13K) |
| Father of the Bride | 2022 | 1h 57m | 5.9 (12K) |
| Jumping the Broom | 2011 | 1h 52m | 5.7 (11K) |
| A Christmas Prince: The Royal Wedding | 2018 | 1h 32m | 5.3 (11K) |
| Wedding Season | 2022 | 1h 38m | 6.3 (9.9K) |
| My Fake Fiancé | 2009 | 1h 35m | 6.3 (7.3K) |
| Our Family Wedding | 2010 | 1h 43m | 5.0 (7.3K) |
| Resort to Love | 2021 | 1h 41m | 5.7 (6.4K) |
| Ali's Wedding | 2017 | 1h 50m | 6.9 (5.3K) |
| One Small Hitch | 2013 | 1h 45m | 6.5 (5.2K) |
| That Old Feeling | 1997 | 1h 45m | 6.1 (4K) |
| Betsy's Wedding | 1990 | 1h 34m | 5.6 (3.9K) |
| Maybe I Do | 2023 | 1h 35m | 4.9 (2.7K) |
| Stop the Wedding | 2016 | 1h 24m | 6.4 (1.8K) |
| The Wedding Plan | 2016 | 1h 50m | 6.5 (1.5K) |
| Bride for Rent | 2014 | 1h 55m | 6.3 (639) |
Related
Wedding Crashers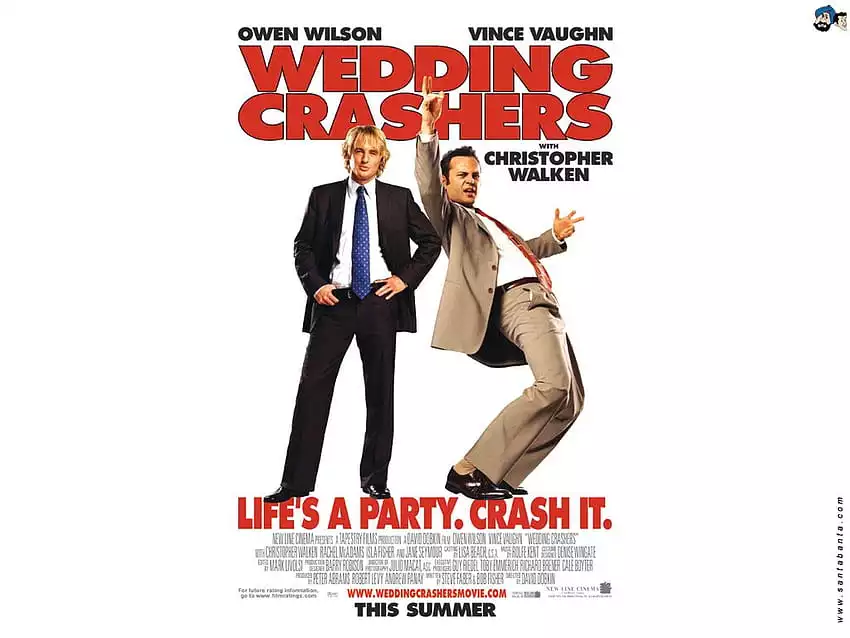 "Wedding Crashers" is a 2005 comedy film directed by David Dobkin. The story follows two best friends, John Beckwith and Jeremy Grey, who are serial wedding crashers. They attend weddings uninvited, taking advantage of the celebratory atmosphere and trying to pick up women.
John and Jeremy have a set of rules they follow to successfully crash weddings and blend in with the guests. They are charming and charismatic, adapting their personalities to fit the situation. However, their fun and carefree lifestyle takes a turn when they crash the wedding of the daughter of a prominent politician.
At the wedding, John becomes infatuated with Claire Cleary, one of the bridesmaids, while Jeremy forms a connection with Gloria Cleary, Claire's eccentric and slightly unstable sister. John and Jeremy decide to extend their stay and attend a weekend at the Cleary family estate, pretending to be guests.
As they immerse themselves in the Cleary family's world, John and Jeremy encounter numerous comedic and awkward situations. They face challenges such as dealing with Claire's possessive and aggressive boyfriend, navigating the complicated dynamics within the Cleary family, and confronting their own insecurities and commitment issues.
Throughout the film, John and Jeremy's perspectives on relationships and love evolve. They discover that their carefree approach to romance may not lead to genuine connections and fulfillment. They learn the importance of honesty, trust, and being true to oneself in matters of the heart.
Mamma Mia!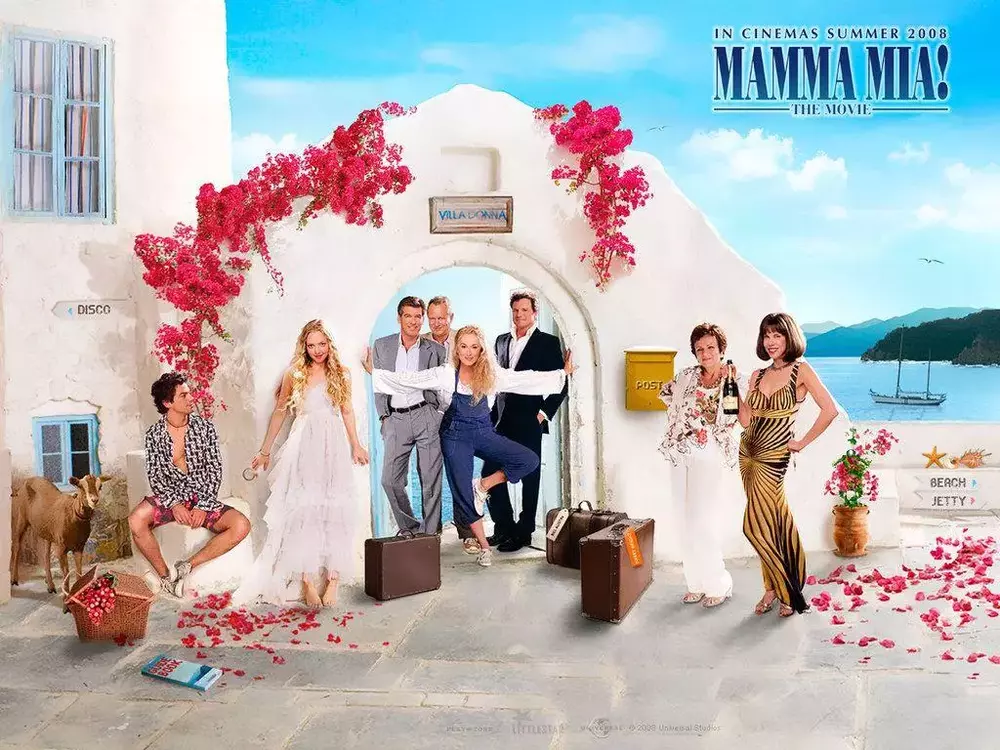 "Mamma Mia!" is a 2008 jukebox musical romantic comedy film directed by Phyllida Lloyd. Based on the stage musical of the same name, the movie tells the story of Sophie Sheridan, a young woman about to get married on a picturesque Greek island. Sophie is determined to find her true father, so she secretly invites three men from her mother's past to the wedding, hoping one of them is her dad.
The film unfolds as Sophie's mother, Donna, is surprised by the arrival of her former lovers: Sam, a straight-laced architect; Bill, a carefree writer; and Harry, a British banker. As the three men reconnect with Donna and try to make sense of their unexpected invitation, the complicated romantic entanglements of the past resurface.
As the wedding approaches, Sophie becomes entangled in a web of emotions and secrets, trying to uncover the truth about her paternity. Meanwhile, Donna confronts her own feelings for her past loves and grapples with the prospect of her daughter starting a new chapter in her life.
Set against the backdrop of the beautiful Greek island, the film features iconic songs by the Swedish band ABBA, including "Dancing Queen," "Mamma Mia," and "Take a Chance on Me." The music serves as a vibrant and catchy backdrop, driving the narrative and adding to the film's energetic and joyful atmosphere.
American Wedding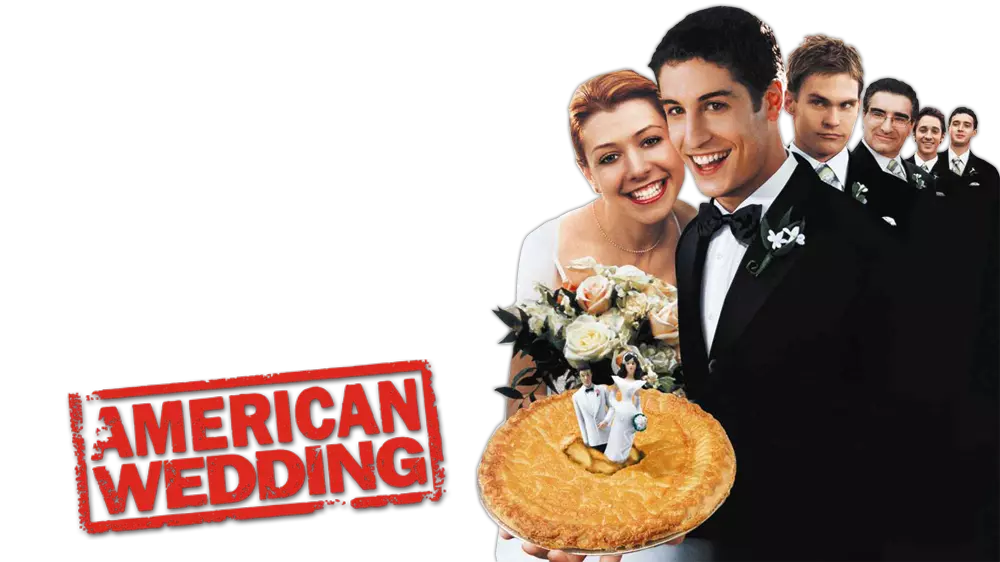 "American Wedding" is a 2003 comedy film and the third installment in the "American Pie" film series. Directed by Jesse Dylan, the movie follows the story of Jim Levenstein and his friends as they navigate the ups and downs of preparing for Jim's wedding.
Jim and his high school sweetheart, Michelle Flaherty, are engaged and planning their wedding. As they go through the process, Jim's friends—such as Kevin, Finch, and Stifler—join in the festivities, providing their unique and often humorous contributions.
The film explores the challenges and mishaps that arise during wedding preparations. Jim and Michelle face various obstacles, from choosing the perfect venue and dealing with overbearing relatives to handling uncomfortable pre-marital counseling sessions.
Adding to the chaos is Stifler, the notorious troublemaker, who is determined to organize a memorable bachelor party for Jim. Stifler's unconventional and wild ideas lead to a series of outrageous and humorous situations, threatening to derail the wedding plans altogether.
As the wedding day approaches, tensions rise, friendships are tested, and unexpected revelations come to light. Jim must make difficult decisions while dealing with the pressures of commitment and the fear of losing himself in the process.
Crazy Rich Asians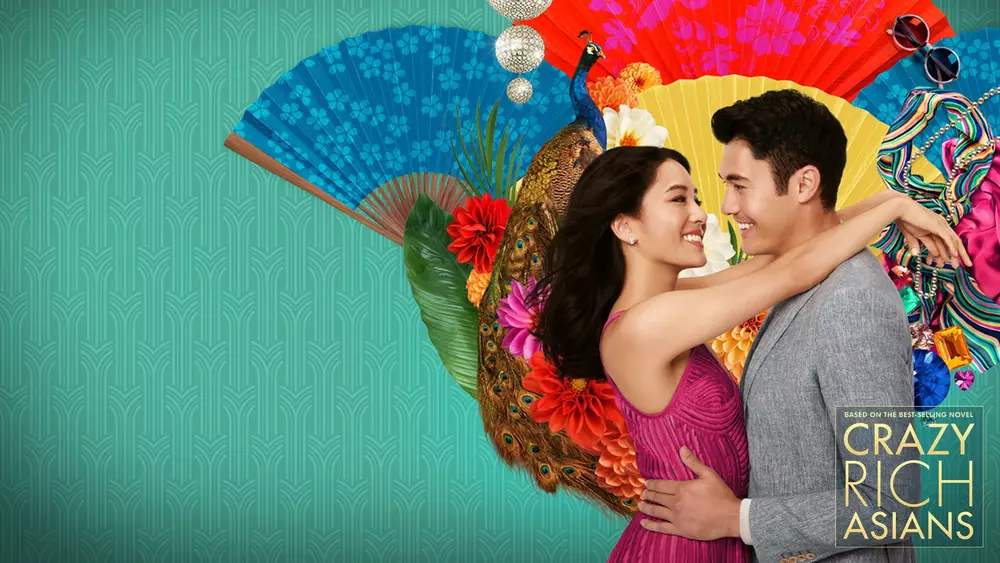 "Crazy Rich Asians" is a 2018 romantic comedy film directed by Jon M. Chu and based on the novel by Kevin Kwan. The story revolves around Rachel Chu, an American-born Chinese economics professor, who accompanies her boyfriend, Nick Young, to Singapore to attend his best friend's wedding. Unbeknownst to Rachel, Nick belongs to one of the wealthiest and most prestigious families in Singapore.
As Rachel enters the glamorous world of Singapore's elite, she faces various challenges and cultural clashes. She quickly realizes that Nick's family is incredibly wealthy and deeply entrenched in traditional customs and values. Rachel must navigate the intricacies of high society while dealing with judgment, scrutiny, and the disapproval of Nick's domineering mother, Eleanor.
Throughout the film, Rachel grapples with her own identity, caught between her humble background and the opulence surrounding her. She encounters Nick's colorful and eccentric family members, including his disapproving relatives and socialite ex-girlfriend, who all add to the complexities of their relationship.
The film explores themes of love, family, and self-discovery. Rachel's journey forces her to confront the stark contrast between her own values and those of Singapore's ultra-wealthy. She finds support in her best friend, Peik Lin, and her family, who provide a relatable and grounded perspective amidst the extravagance.
Palm Springs
"Palm Springs" is a 2020 romantic comedy film directed by Max Barbakow. The story revolves around Nyles, a carefree wedding guest, and Sarah, the reluctant maid of honor, who find themselves trapped in a time loop during a wedding in Palm Springs.
Nyles and Sarah cross paths at the wedding and form a connection. However, their lives take an unexpected turn when they wake up the next morning and realize they are reliving the same day over and over again. Stuck in an endless loop, they are doomed to repeat the events of the wedding day indefinitely.
As Nyles has already been stuck in the time loop for an unknown length of time, he has embraced the freedom and lack of consequences it offers. Sarah, initially bewildered and frustrated, eventually joins Nyles in navigating the repeated day's absurdity and unpredictability.
As they spend countless iterations of the day together, Nyles and Sarah grow closer and form a deep bond. They explore the existential questions and possibilities presented by their unique situation, finding solace and understanding in one another's company.
---
And there you have it, folks, the 50 best wedding-theme romantic comedy movies like "Bridesmaids" that you should watch today.